©1977 Paramount Pictures Corporation. All Rights Reserved.
Catalog Number
P10-521
Format
Standard Play CAV
MPAA Rating
Running Time
118 minutes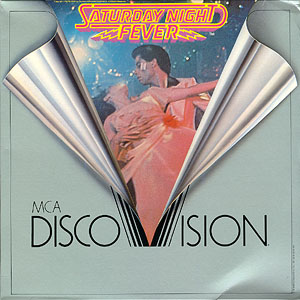 ---
Dolby Stereo
Pressing Location
DiscoVision Carson
Label Color
Blue
Retail Price
$15.95
Issued
January 1979
Side
Frames
Running Time
1
33,601
23min 20sec
2
35,297
24min 31sec
3
34,230
23min 46sec
4
30,952
21min 30sec
5
38,076
26min 26sec
172,156
119min 33sec
Dead Side
Various
Ratings
Video Transfer
Audio Transfer
Replication
Packaging
Large Open-Top
Open-Top
Side-Open Sticker
Printed
Pressing Notes
The video transfer of Saturday Night Fever fell within the typical DiscoVision transfers. Some sections are too bright, others are too dark. The image is mostly dark and the night scenes contain almost no detail. Colors are a bit sharp and harsh. It's hard to fault DiscoVision for this since they were working from video tape. The audio is transferred with DiscoVision's typical quality, with some sections sounding dull and muddied. The stereo has been transferred poorly and listening to it through a Dolby Pro-Logic decoder will cause the dialog to bleed terribly into the surround channels.

There were several different masterings of this title. Of the copies reviewed, none had the exact same frame count for each side, differing by as much as 60 frames per side. One copy which has two side 1 (a dead side) has different frame counts between them. The final masterings had the DiscoVision copyright notice in the bumper and bumpers that faded in and out, rather than being hard spliced.

Saturday Night Fever was another DiscoVision title to have "stereo" stickers attached first to the shrinkwrap and later to the box itself. The printed jacket removed the "Dolby System" logo and had the "Stereo" strip placed across the back of the jacket. The DiscoVision edition last listed in the October 1980 catalog.
---
Release History
Saturday Night Fever has issued in 1981 under the Paramount Home Video label as a 3 sided CLV disc. (Catalog #: LV1113). Paramount later had the title repressed in Japan as a 2 sided CLV disc without changing either the price or the catalog number. All LaserDisc editions after the DiscoVision release were re-cut editions rated PG.
---
MCA DiscoVision Home Page
---
Updated: January 29, 2023
Copyright ©2015 Blam Entertainment Group