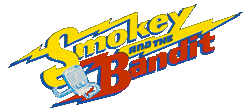 ©1977 Universal City Studios, Inc. All rights reserved.
Catalog Number
12-004
Format
Standard Play CAV
MPAA Rating
Mono
Running Time
97 minutes
---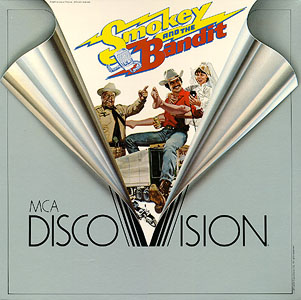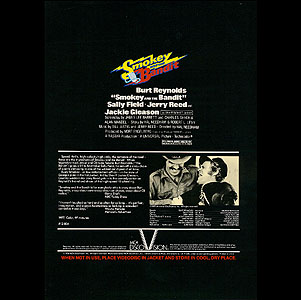 | | |
| --- | --- |
| Pressing Location | DiscoVision Carson |
| Label Color | Blue |
| Issued | December 1978 |
Side
Frames
Running Time
1
35,257
24min 29sec
2
35,105
24min 56sec
3
35,197
24min 27sec
4
33,135
23min 23sec
139,223
96min 42sec
Ratings
Video Transfer
Audio Transfer
Replication
Packaging
Open-Top
Side-Open Sticker
Printed
Price History
Silver Catalog
$15.95
November 1979
$24.95
May 1980
$24.95
August 1980
$24.95
October 1980
$24.95
Pressing Notes
At some point, there was a mastering of Smokey and the Bandit which began the frame counter on side 1 at the beginning of the DiscoVision bumper. This is a departure from normal masterings of the title. Further, this mastering also used the red bumpers, rather than the typical orange bumpers of most copies. Since the CLV Extended Play edition used the "orange bumper" transfer, we can only assume the "red bumper" version came first, however, copies of both have been found in printed jackets. There seems to be no reason behind the differences.

On the transfer side, the "red bumper" version has more contrast, which gives the colors real vibrance and power. This is not necessarily good, since it almost appears oversaturated. The dark scenes - especially on side 1 - take on a blue hue as well, which was corrected on the "orange bumper" mastering. The audio transfer is also softer than the "orange bumper" version and seems to contain a bit more background hiss. Overall, I must chose the "orange" transfer as my transfer of choice.

There is no clear way to tell the 'red bumper' earlier versions from the later 'orange' version. All of the original copies were 'red' but there is a mix after that. There are some copies that have a 'red' side 3 and an 'orange' side 4.
---
Release History
Smokey and the Bandit was reissued in July 1981 as a CLV DiscoVision pressing. Again in July 1984, the title was issued on MCA Home Video. The disc was a Japanese pressed CLV disc which had a terrible transfer and suffered from speckle problems. The title received a widescreen (1.85:1) release (Catalog #: 42938) in October 1996. This new edition boasts a new transfer which is much better than the July 1984 edition. The image is not quite as bright as the DiscoVision transfer, but is properly balanced. The widescreen image does show slightly more on the sides but looses some vertical information which was present in the previous full frame transfers due to the 1.85:1 matte.
---
MCA DiscoVision Home Page
---
Updated: August 1, 2020
Copyright ©2004 Blam Entertainment Group