©1979 Universal City Studios, Inc. Columbia Pictures Industries. All rights reserved.
Catalog Number
10-025
Format
Standard Play CAV
MPAA Rating
Running Time
120 minutes
---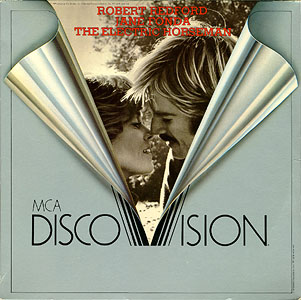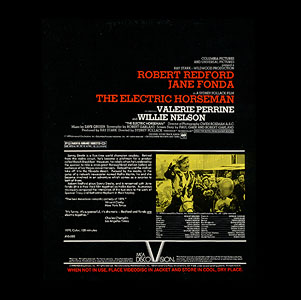 Mono
Pressing Location
DiscoVision Carson
Label Color
Blue
Retail Price
$24.95
Year Issued
1980
Side
Frames
Running Time
1
34,822
24min 11sec
2
36,303
25min 12sec
3
32,095
22min 17sec
4
36,366
25min 15sec
5
34,923
24min 15sec
174,509
121min 11sec
Dead Side
Various
Ratings
Video Transfer
Audio Transfer
Replication
Packaging
Printed Jacket
Pressing Notes
The Electric Horseman was released near the end of the DiscoVision era. Available in only a printed jacket, the transfer was done from an anamorphic theatrical print which is shown in the incorrect aspect ratio for most of the film. It might look fine on a current 16x9 TV set configured for widescreen, but in 1980, this was just poorly transferred. The video transfer is further hampered by washed out colors and a contrast setting which is too high. This edition was mastered during DiscoVision's "brown" period and the color for the entire program are off as a result. There are several scenes, especially on side 5, where the white balance problem runs amuck, and the image pulses annoyingly for most of the side.

The audio transfer has been done with the typical DiscoVision care and is only average. The dialog is clear and intelligent, but sounds muffled most of the time. It was also typical for discs made during this period. And true to form, the IBM controlled disc replication has made it impossible for any copies of this title to be located which don't have higher than average speckling problems. It's not that the discs are unwatchable, but they are of lower quality that the discs coming off the replication line in 1979.
---
Release History
MCA Videodisc reissued The Electric Horseman in a time-compressed 2 sided CLV release in 1983. With the removal of it from the MCA catalog, the title was out of print until April 1994. At that time, MCA/Universal Home Video released a 3 sided CLV/CAV widescreen (2.35:1) edition (Catalog #: 41516) which restored the film to its correct running time.
---
MCA DiscoVision Home Page
---
Updated: November 15, 2016
Copyright ©2004 Blam Entertainment Group