©1971 Video Playbacks Productions, Inc. All Rights Reserved.
Catalog Number
32-001
Format
Standard Play CAV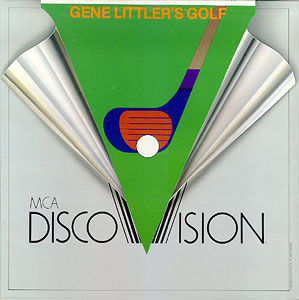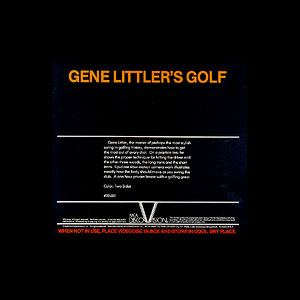 ---
Mono
Pressing Location
DiscoVision Carson
Label Color
Green
Retail Price
$9.95
Year Issued
1979
Side
Frames
Running Time
1
48,968
27min 12sec
2
51,517
28min 37sec
100,485
55min 49sec
Ratings
Video Transfer
Audio Transfer
Replication
Packaging
Open-Top
Side-Open Sticker
Printed
Pressing Notes
Part of the "Sports-how-to" library, Gene Littler's Golf is made up of two complete golf segments; each side has credits. Side 1 is titled "Pendulum Power." Side 2 is titled "Pendulum Power III." The master for both sides was videotape. The video quality is sharp and colors are quite rich. The materials used to prepare this disc are much better than others which are much newer. These programs, produced eight years prior to the launch of DiscoVision are much better than some of the feature film elements which were only a year or two old. The audio transfer is what you might expect. All of the audio is a narrative and has no need for any frequency response other than spoken word. Still, the dialog is clear and understandable.

Gene Littler's Golf made its last catalog appearance in October 1980. Oddly enough, the end "copyright" bumpers are on a green background. Possibly to match the color of the disc labels, since most of the feature films used blue background bumpers.
---
Release History
Gene Littler's Golf was never reissued on LaserDisc.
---
MCA DiscoVision Home Page
---
Updated: November 5, 2016
Copyright ©1998 Blam Entertainment Group