©1978 Universal City Studios, Inc. All rights reserved.
Catalog Number
16-007
Format
Extended Play CAV 2nd Edition
MPAA Rating
Mono
Running Time
109 minutes
---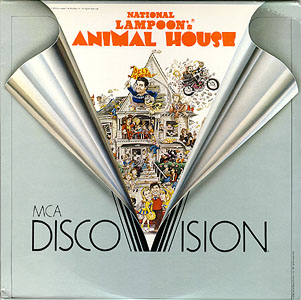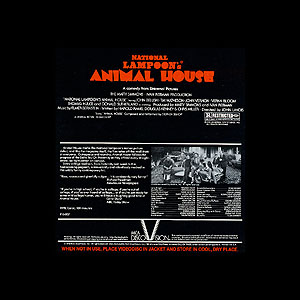 | | |
| --- | --- |
| Pressing Location | DiscoVision Carson |
| Label Color | Blue |
| Issued | April 1980 |
Side
Frames
Running Time
1
38,642
26min 50sec
2
39,891
27min 42sec
3
38,962
27min 04sec
4
39,721
27min 35sec
157,216
109min 11sec
Ratings
Video Transfer
Audio Transfer
Replication
Packaging
Open-Top
Side-Open Sticker
Printed
Price History
May 1980
$24.95
August 1980
$24.95
October 1980
$24.95
Pressing Notes
The transfer of this edition of National Lampoon's Animal House is no better than any of the others. The video is too dark and is shifted too far to the left, cutting off some of the end credits. The audio is missing most of the high ends as usual. However, the color is pretty good. Disc replication is generally poor and most copies suffer from speckling.

This version of National Lampoon's Animal House corrected all the problems with the 5 sided version. However, the side breaks are nearly as stupidly placed. For example the side 2-3 break could have been delayed an additional 700 frames to break in a much more logical position. In fact, the 1987 reissued CLV version placed the side break in this much more desired location. The side 3-4 break is so bad, it actually occurs in mid sentence.

This is DiscoVision's 3rd attempt at Animal House and began shipping in 1980. There are no markings of any kind to tell the difference between the two CAV versions and the side breaks are all different. As noted here, all 5 sided versions are in Side-open Sticker jackets. All printed jackets house the 4 sided version, however, they have also been spotted in the side-open sticker style jackets. Verify the discs themselves when buying or trading this title to insure you have all the correct discs for your set.
---
Release History
National Lampoon's Animal House was was reissued on MCA Home Video as a 2 sided CLV disc in December 1987. (Catalog #: 16007).Universal Home Video issued a deluxe edition of National Lampoon's Animal House as part of their Signature Collection. This new edition is THX® certified and presented in the original aspect ratio of 1.85:1. The Deluxe Edition (Catalog #: 43884) was issued in October 1998.
---
MCA DiscoVision Home Page
---
Updated: August 2, 2020
Copyright ©2004 Blam Entertainment Group