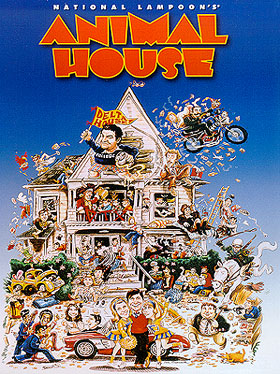 ©1978 Universal City Studios, Inc. All rights reserved.
Catalog Number
43884
Format
Extended Play CLV
Table of Contents
Running Time
109 minutes

Side
Chapters
Running Time
1
19
55min 32sec
2
18
54min 12sec
37
109min 44sec
Supplemental Material
3
14
48min 01sec

| | |
| --- | --- |
| Pressing Location | Pioneer Video Manufacturing |
| Aspect Ratio | |
| Retail Price | $39.98 |
| Issued | October 13, 1998 |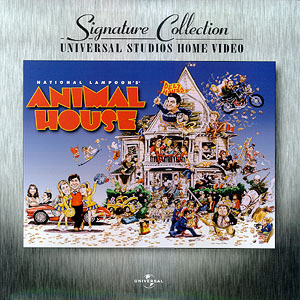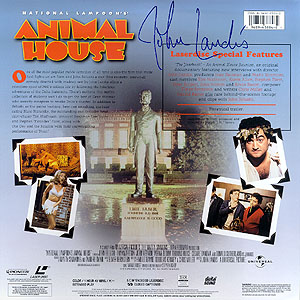 The set includes the following supplemental materials:
Presented in the 1.85:1 aspect ratio of the original 35 millimeter theatrical prints
The Yearbook - An Animal House Reunion, an original documentary featuring new interviews with the director John Landis, producers Ivan Reitman and Matty Simmons, cast members Tim Matheson, Karen Allen, Stephen Furst, Peter Reigert, John Vernon and Kevin Bacon, composer Elmer Bernstein and writers Chris Miller and Harold Ramis plus rare behind-the-scenes footage and clips of John Belushi.
Theatrical Trailer

Synopsis:
One of the most popular movie comedies of all time is also the film that made food fights an art form and John Belushi a star. This raunchy, screwball comedy directed with madcap zest by John Landis offers a relentless spoof of 1960's college life by following the hilarious adventures of the rowdy Delta fraternity. There's nothing this motley collection of students won't do to get the best of Dean Wormer (John Vernon) who secretly conspires to revoke the toga partying Delta's charter.

In addition to Belushi as the guitar bashing, beer can smashing, garbage eating Bluto Blutarsky, the outstanding cast includes head skirt-chaser Tim Matheson, innocent freshmen Thomas Hulce and Stephen "Flounder" Furst, the comely Karen Allen, Donald Sutherland as the hip pot-smoking English professor and Otis Day and the Knights with their show-stopping performance of "Shout."
Last Updated: October 13, 1998
©1998 Blam Entertainment Group