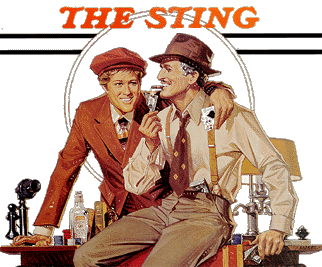 ©1973 Universal Pictures. All rights reserved.
Catalog Number
11-001
Format
Standard Play CAV - 1st Edition
MPAA Rating
Mono
Running Time
129 minutes
---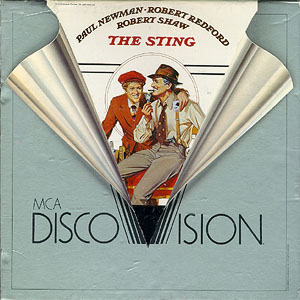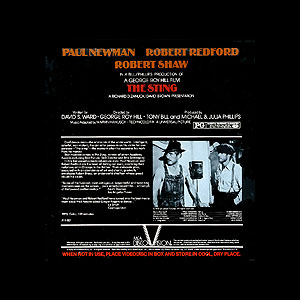 | | |
| --- | --- |
| Pressing Location | DiscoVision Carson |
| Label Color | Blue |
| Year Issued | 1978 |
Side
Frames
Running Time
1
41,019
28min 29sec
2
41,005
28min 28sec
3
39,301
27min 17sec
4
41,667
28min 56sec
5
24,327
16min 53sec
187,319
130min 05sec
Dead Side
Various
Ratings
Video Transfer
Audio Transfer
Replication
Packaging
Large Open-Top
Open-Top
Side-Open Sticker
Printed
Price History
Silver Catalog
$15.95
Pressing Notes
The video transfer of The Sting is bland and unremarkable. It appears faded and at times out of focus. While the colors are sharp, they are hampered by the overly robust contrast which gives everything a harsh edge. The reds are especially noisy. There are obvious watermarks (blue spots) about 26 minutes into side 1. There are poor splices which manifest themselves by the image hopping through the telecine gate. The audio received equally poor treatment. Foot falls are too sharp and overly pronounced. The musical score, which brought ragtime back to the forefront in the early 70's, is dull and unexciting. The ADR used to bring the harsh language down from an "R" to a "PG" rating is all too noticeable. DiscoVision elected to use the red bumpers for sides 2-5.

There are two different masterings of sides 4 & 5 which incorporate a different side break. The initial edition is the frame counts referenced above. Side 4 continues for 4,435 frames beyond the 'remastered' version, to a natural fade to black in the film. Side 5 then begins with "The Sting" title card. Check the mint marks when assembling a set. D1 & E1 match and are from the first run. D2 & E2 (or higher) are from the subsequent run, with the "longer" side 5.
---
Release History
The Sting was issued in 1982 by MCA Videodisc. It was later issued as a 3 sided CLV/CAV version (Catalog #: 11001) Pan & Scan edition with Digital Audio. The title features windowboxed opening and closing credits. Some of the odd watermarks are still present, but the transfer is a much needed improvement over the DiscoVision editions.
---
MCA DiscoVision Home Page
---
Updated: August 2, 2020
Copyright ©2012 Blam Entertainment Group