©1978 Universal City Studios, Inc. All rights reserved.
Catalog Number
16-006
Format
Extended Play CLV
MPAA Rating
Running Time
97 minutes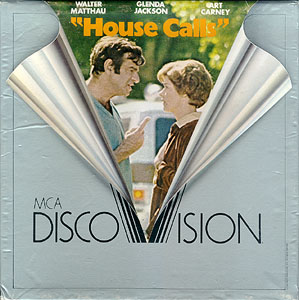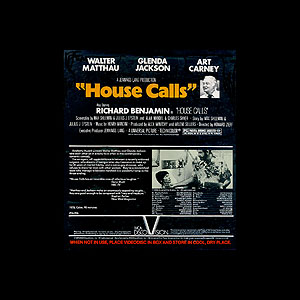 ---
Mono
Pressing Location
DiscoVision Carson
Label Color
Red
Retail Price
$15.95
Issued
June 1979
Side
Running Time
1
48 min
2
49¾ min.
97 minutes
Ratings
Video Transfer
Audio Transfer
Replication
Packaging
Open-Top
Side-Open Sticker
Printed
Pressing Notes
One of DiscoVision's CLV releases, House Calls was thought to have been issued only in CAV by many collectors. It was never issued in CAV at all, although some of the open-top jackets were missing the 'filler' plate in the box so the disc had a tendency to bounce around.

House Calls is the only "red" label CLV release from DiscoVision until the switchover to all CLV in 1981. If you can find a copy of the recalled CLV edition of National Lampoon's Animal House), it also had a red label, but we won't count that one. Deliverance had the typical "feature film" blue labels. There was no reference to the title being in "Extended Play" anywhere on the box. Initial copies have a plain red label with no markings to indicate "Extended Play", while later copies had a "EXTENDED PLAY" in a white box on the label.

A transfer error plagues House Calls at 25½ minutes into side 1. There is a scene change from Dr. Nichols and Mrs. Atkinson having coffee to where Dr. Willoughby is waiting for the elevator. The audio goes completely silent for about 10 seconds and then begins to fade in slowly. After a total of 15 seconds the audio is fully restored. On side 2 at minute 25, there is another transfer error, where it appears a few frames are missing. There are is a black frame and a snippet of audio is missing. These are not disc replication faults, but errors with the film itself.

Copies of side 2 with the mint marking CV16-006B1-30 are missing the consumer "Philips Code" signal. This causes all consumer players to be confused as to how to play the disc. Players with CAV/CLV identification lamps will leave both ON (first and second generation players). Most later model players refuse to play the side at all. If playback does succeed, time display and searching are not available.

The video is very sharp and clear. The source material is obviously a theatrical print as splice lines are visible at the reel changes. There are times throughout the film when the image jumps annoyingly in the telecine gate. The colors are fairly good, but scenes inside the hospital are hindered by a green hue, probably from the fluorescent lights. As is usual, the audio is unspectacular, but it is clean and clear.
---
Release History
House Calls was reissued on MCA Videodisc in 1982 (Catalog #: 16-006) using the same DiscoVision transfer.
---
MCA DiscoVision Home Page
---
Updated: November 15, 2016
Copyright ©2016 Blam Entertainment Group