©1978 Universal City Studios, Inc. All rights reserved.
Catalog Number
16-007
Format
Extended Play CLV 1st Edition
MPAA Rating
Running Time
109 minutes
---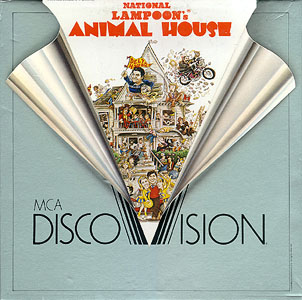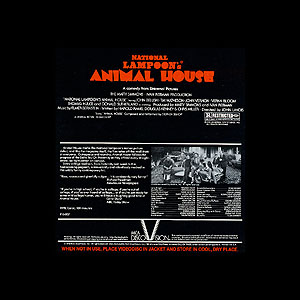 Mono
Pressing Location
DiscoVision Carson
Label Color
Red
Retail Price
$15.95
Issued
December 1978
Side
Running Time
1
54½ min
2
54½ min
109 min
Ratings
Video Transfer
Audio Transfer
Replication
Packaging
Open-Top
Side-Open Sticker
Printed
Pressing Notes
National Lampoon's Animal House was one of three extended play titles listed in the Silver Catalog; House Calls and Destry Rides Again are the other two titles. MCA released this extended play version in 1978 with the original launch of DiscoVision. Copies of National Lampoon's Animal House were all snapped up, with the title being one of the hottest selling discs at the launch in Atlanta. Almost immediately, the discs were returned as 'defective' - either for not being able to freeze frame (thinking the disc was like all the other titles at launch) or simply not being able to play them at all. In fact, the Magnavision players could not play them correctly. DiscoVision was still working out the kinks of the extended play format and Magnavox was behind the curve in keeping the Magnavision players up to the changes DiscoVision was making in the Extended Play format.

The video transfer is on the dark side, as are all other versions of this film on DiscoVision. The audio is done with the typical DiscoVision talent for removing all the high-ends from the audio. The side break is poorly placed in the film, but for a title that runs nearly 110 minutes, and a maximum CLV playing time (in 1978) of 110 minutes, there wasn't much control without taking the film to a 3rd side. MCA corrected this side break issue with the 5 sided CAV edition, but that created all new problems for the boys in Delta house. In addition, there is a place on side 2 - which oddly enough is the 3/4 side break on the 4 sided version - where there are 2 or 3 frames of black. There is nothing actually missing, just an odd little gap in the film.

The transfer is shifted too far to the left and as a result, the left edge of the opening credits are missing. This error was corrected in subsequent masterings of the title. This version of National Lampoon's Animal House is among some of the rarest DiscoVision discs in existence.
---
Release History
National Lampoon's Animal House was was reissued on MCA Home Video as a 2 sided CLV disc in December 1987. (Catalog #: 16007). Universal Home Video issued a deluxe edition of National Lampoon's Animal House as part of their Signature Collection. This new edition is THX® certified and presented in the original aspect ratio of 1.85:1. The Deluxe Edition (Catalog #: 43884) was issued in October 1998.
---
MCA DiscoVision Home Page
---
Updated: November 15, 2016
Copyright ©2004 Blam Entertainment Group