©1978 Universal City Studios, Inc. All rights reserved.
Catalog Number
16-007
Format
Extended Play CAV 1st Edition
MPAA Rating
Running Time
109 minutes
---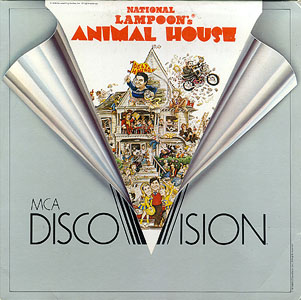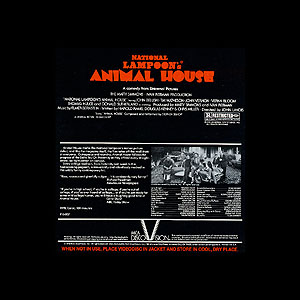 Mono
Pressing Location
DiscoVision Carson
Label Color
Blue
Retail Price
$24.95
Issued
July 1979
Side
Frames
Running Time
1
32,644
22min 40sec
2
31,994
22min 13sec
3
31,211
21min 41sec
4
29,482
20min 28sec
5
31,920
22min 10sec
157,251
109min 12sec
Dead Side
Various
Ratings
Video Transfer
Audio Transfer
Replication
Packaging
Open-Top
Side-Open Sticker
Printed
Pressing Notes
This 5 sided version is actually the 2nd version of this title available. It stands out as important because side 3 ends with Dean Wormer screaming at the Deltas as they march out of the auditorium after attending a hearing concerning their "Roman Toga Party." The music builds as the Dean continues yelling. The DiscoVision side end bumper displays while the film soundtrack continues for several more seconds. Side 4 begins with the letters being removed from the Delta House, but there are a few frames missing. DiscoVision stopped shipping the 5 sided version in 1980.

Of all DiscoVision editions, and the side 3/4 break problems aside, the side breaks of this version are by far the best for this film.
---
Release History
National Lampoon's Animal House was was reissued on MCA Home Video as a 2 sided CLV disc in December 1987. (Catalog #: 16007). Universal Home Video issued a deluxe edition of National Lampoon's Animal House as part of their Signature Collection. This new edition is THX® certified and presented in the original aspect ratio of 1.85:1. The Deluxe Edition (Catalog #: 43884) was issued in October 1998.
---
MCA DiscoVision Home Page
---
Updated: November 15, 2016
Copyright ©2004 Blam Entertainment Group