©1973 Universal Pictures. All rights reserved.
Catalog Number
17-002
Format
Standard Play CAV - Stereo
MPAA Rating
Running Time
103 minutes
---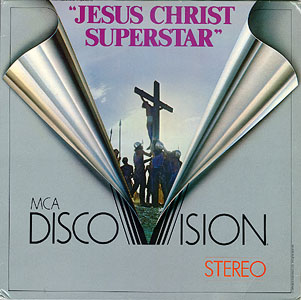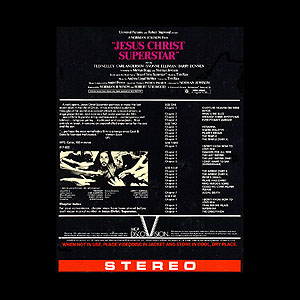 Stereo
Pressing Location
DiscoVision Carson
Label Color
Blue
Retail Price
$24.95
Year Issued
1979
Side
Chapters
Frames
Running Time
1
4
32,004
22min 14sec
2
5
30,174
20min 57sec
3
5
33,679
23min 23sec
4
7
26,570
18min 27sec
5
4
31,142
21min 38sec
25
153,569
106min 39sec
Dead Side
Various
Ratings
Video Transfer
Audio Transfer
Replication
Packaging
Printed
Pressing Notes
This version has a copyright sentence below the DiscoVision logo on Side 1. The film also opens with the MPAA rating screen before the film starts. Content wise, the film is the same as the 4 sided version, however, the film has been re-transferred and each scene is composed slightly differently from the 4 sided version. Side 5 of this version and side 4 of the first pressing are identical in run time. This version was the only DiscoVision edition of Jesus Christ Superstar to have stereo sound or chapter stops.

The video transfer is about typical for DiscoVision, with vivid colors possible but with so much contrast, there are scenes where the only way you know someone is there is by the whiteness of their teeth. The audio transfer is also typical with an apparent lack of high-end. There are times when the audio distorts noticeably. This isn't a fault of the transfer or of the DiscoVision mastering, but of the source material used. The distortion is even present on widescreen LaserDisc edition of the film available from Universal Home Video.

Some copies have been found with the typical Japanese "Disco-Vision No Program" dead side. This is a fully mastered side with the words "Disco-Vision No Program this Side". While this isn't unusual to find on Japanese mastered and pressed CLV title, this is the only known occurrence of an Carson pressed side being included on a CAV title. This would indicate that Jesus Christ Superstar was still being assembled long after titles such as Star Trek: The Motion Picture were done for Paramount. No other odd-sided Carson pressed title is known to have these dead sides.

The first edition of the printed jacket for this edition almost seems to have been prepared for the original 4-sided Mono edition. The size of the jacket is a bit on the small side, none of the chapter stops are listed on the back, and the only mention of "STEREO" is a small sticker affixed to the lower right front corner.
---
Release History
Jesus Christ Superstar was reissued on MCA Home Video as a 2 sided CLV disc in August 1987 (Catalog #: 17002). Again, it was released Mono first (a mistake, since the jackets claimed stereo), and then repressed in Stereo. MCA/Universal Home Video released a widescreen (2.35:1) edition (Catalog #: 41297) in July 1992.
---
MCA DiscoVision Home Page
---
Updated: November 15, 2016
Copyright ©2015 Blam Entertainment Group