©1968 Warner Bros. All rights Reserved

Catalog Number
W12-515
Format
Extended Play CLV
MPAA Rating
Mono
Running Time
114 minutes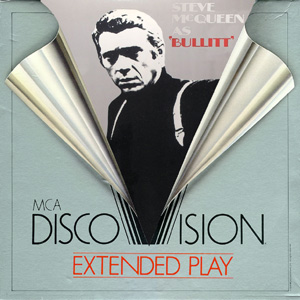 Cover mock-up
---
| | |
| --- | --- |
| Pressing Location | DiscoVision Carson |
| Label Color | Blue |
Side
Running Time
1
37 min
2
38½ min
3
Price History
Silver Catalog
$15.95
November 1979
$24.95
Pressing Notes
The Steve McQueen action-adventure drama, Bullitt, was originally listed among the Warner Bros. features to be released on the DiscoVision label.

Bullitt remained part of the DiscoVision catalog only through November of 1979, still marked as Coming Soon. No copies of Bullitt are known to exist on the DiscoVision label. However, we do know that at least Sides 1 & 2 were mastered because both have appeared as dead sides. The video transfer appeared crisp and clean, recorded in the Extended play format.
---
Release History
Bullitt was finally released on LaserDisc by Warner Home Video (Catalog #: 1029LV) in 1991, pressed by WEA. This edition was reissued in 1993 and pressed by Pioneer. Warner issued the title for the first time in 1.85 Widescreen on LaserDisc in 1995, but this edition was only available in Japan.
---
MCA DiscoVision Home Page
---
Updated: August 2, 2020
Copyright ©2000 Blam Entertainment Group