©1979 Universal City Studios, Inc. All rights reserved.
Catalog Number
16-015
Format
Standard Play CAV
MPAA Rating
Running Time
95 minutes
---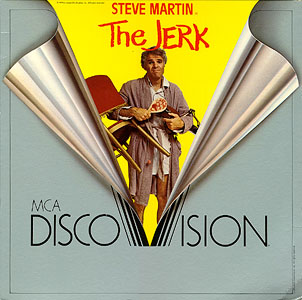 Mono
Pressing Location
DiscoVision Carson
Label Color
Blue
Retail Price
$24.95
Year Issued
1980
Side
Frames
Running Time
1
34,981
24min 17sec
2
34,516
23min 58sec
3
30,541
21min 12sec
4
35,942
24min 57sec
135,980
94min 25sec
Ratings
Video Transfer
Audio Transfer
Replication
Packaging
Printed Jacket
Pressing Notes
The Jerk is a very common title. There is about 4 seconds of film missing from at the side 2-3 side-break. The scene where Bernedette Peters turns to look back into the trailer is much longer, and contains lead in music to the next scene which is the ocean at night. The video transfer is about par for DiscoVision at the time with too much contrast and the brightness too far up. Direct lighting scenes, like daylight, tend to bloom slightly. The dark scenes are not as bad as those seen in Which Way is Up?, but they are still not as good as the current MCA/Universal Home Video release. The audio transfer is on par as well, and is neither strong in the high nor low ends.

DiscoVision copies are quite easily found, and most are of acceptable quality. Of the four copies examined in my experience with DiscoVision, all have been about the same, with some very minor speckling. The opening DiscoVision graphic begins normally, but fades out and cuts off about 3 seconds prematurely.
---
Release History
The Jerk was released in November 1992 by MCA/Universal Home Video (Catalog #:16015) in Digital Mono. There have been some minor audio alterations which are not noted on the jacket anywhere.
---
MCA DiscoVision Home Page
---
Updated: November 5, 2016
Copyright ©2002 Blam Entertainment Group