©1971 Universal City Studios, Inc. All rights reserved.
Catalog Number
13-001
Format
Extended Play CLV
MPAA Rating
Running Time
137 minutes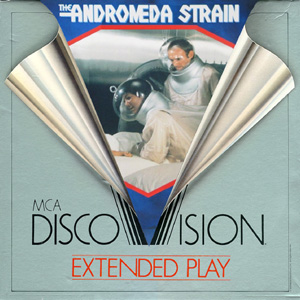 Cover mock-up
---
Mono
Pressing Location
DiscoVision Carson
Label Color
Red
Retail Price
$15.95
Side
Running Time
1
2
3
48 min
Pressing Notes
Outside the test pressings done in 1977, The Andromeda Strain never made its official appearance on DiscoVision. It was believe that no actual work had been done on a production version of this science fiction classic. However, a dead side was located on a copy of Jesus Christ Superstar. This dead side is a fully mastered extended play side complete with spiral bumpers and is labeled side 3. It contains the last 48 minutes of the film, including the closing credits. This indicates that the remaining sides would have averaged about 45 minutes each.

As with the test pressing from 1977, the image is Pan & Scan from the theatrical 2.35:1 aspect ratio. This appears to be the same relative transfer, with an improved contrast and brightness balance.
---
Release History
The Andromeda Strain was finally released on MCA/Universal Home Video as a 3 sided CLV/CAV Widescreen (2.35:1) title in December 1990 (Catalog #: 13001).
---
MCA DiscoVision Home Page
---
Updated: November 7, 2016
Copyright ©1999 Blam Entertainment Group