©1971 Universal Pictures. All rights reserved.
Pressing ID
0901
Format
Standard Play CAV
MPAA Rating
Running Time
137 minutes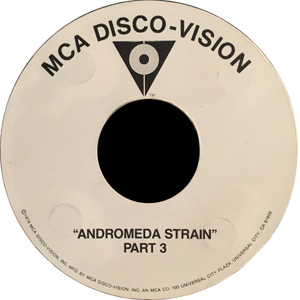 ---
Mono
Pressing Location
Torrence
Label Color
White
Manufactured
February 1977
Side
Frames
Running Time
1
2
40,672
28min 14sec
3
42,701
29min 34sec
4
35,494
24min 38sec
5
Ratings
Video Transfer
Audio Transfer
Pressing Notes
The test pressing reviewed was missing sides 1 and 5. Presumably, they have simply been lost however, there are no known other copies of the title. As with other test pressings, this would likely not have been the final representation of what we would have seen - had the title ever been released by DiscoVision. The pan & scan transfer is awful, complete with mechanical panning of the film which is painful to watch. The video transfer is overly saturated on this test disc which causes some high-contrast ghosting.

This test pressing boasts one of the longest test pressing sides (or regular production sides for that matter), clocking in at over 29½ minutes. Side 3 has a mastering error which causes the video to tear at the top of the screen from frame 25,093 to 25,102. Sync control in some players is affected, and the player may skip several hundred frames when the error is encountered. Others, like the VP-7200 which was used for isolation of this trouble, simply play happily through the error.
---
Updated: August 15, 1999
Copyright ©1999 Blam Entertainment Group