©1965 Universal Pictures Company, Inc. All rights reserved.
Catalog Number
14-001
Format
Standard Play CAV
Running Time
105 minutes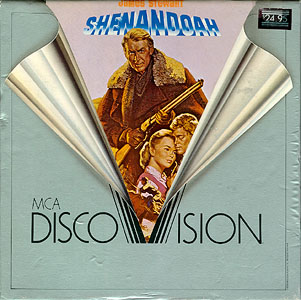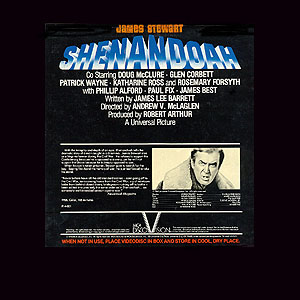 ---
Mono
Pressing Location
DiscoVision Carson
Label Color
Blue
Retail Price
$15.95
Issued
January 17, 1979
Side
Frames
Running Time
1
35,372
24min 34sec
2
39,534
27min 27sec
3
38,256
26min 34sec
4
38,902
27min 00sec
152,064
105min 36sec
Ratings
Video Transfer
Audio Transfer
Replication
Packaging
Open-Top
Side-Open Sticker
Printed
Pressing Notes
Shenandoah, one of the four DiscoVision westerns under the 14-000's series, features Jimmy Stewart amid the action of Civil War Virginia and his fight to keep himself and family together while avoiding the war around them. Shot entirely at Universal City, Shenandoah is a very appealing film as well as a highly sought after DiscoVision collectible as well.

The video transfer is stunning. Colors are vivid and alive. There are the occasional troubles with brightness in some scenes, and the contrast in others is a bit overdone, but generally it is very good. The audio transfer is crisp and clean with all dialog easily understood. As typical, there is almost no audio in the high ends.

Replication is good. All sides except side 3 exhibit the "soft signal" troubles which keeps the disc from playing on some players. However, the sides are clean and have very little if no speckling. There is a mastering fault on side 2. For the first 3,800 frames, the audio vibrates like everyone is speaking under water. It clears up quickly enough and the side continues without further trouble.
---
Release History
Shenandoah was reissued on LaserDisc by MCA Home Video (Catalog #: 14001 / ID5125) as part of a package distribution deal with Image Entertainment.
---
MCA DiscoVision Home Page
---
Updated: November 15, 2016
Copyright ©2004 Blam Entertainment Group