©1973 Universal City Studios, Inc. All rights reserved.
Catalog Number
19-001
Format
Standard Play CAV
Running Time
76 minutes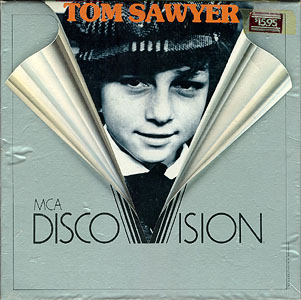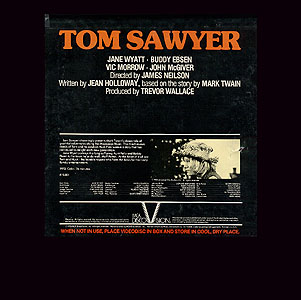 ---
Mono
Pressing Location
DiscoVision Carson
Label Color
Blue
Retail Price
$9.95
Issued
January 1979
Side
Frames
Running Time
1
36,444
25min 18sec
2
36,421
25min 17sec
3
38,532
26min 45sec
111,397
77min 13sec
Dead Side
Various
Ratings
Video Transfer
Audio Transfer
Replication
Packaging
Open-Top
Side-Open Sticker
Printed
Pressing Notes
This 1973 made-for-TV version of the Mark Twain classic features the performances of Jane Wyatt, Buddy Ebsen, Vic Morrow and John McGiver. A horribly produced and short feature, it is very obvious that all the outdoor night scenes were shot in broad daylight and then darkened later. It's laughable. Availability was irregular, but generally not to hard to find during the title's life.

There are two distinct frame counts for side 1. The difference is the encoding of frame 1. Some copies have frame 1 during the DiscoVision intro, while others begin frame 1 after the Universal logo. Four of the copies examined have the same Battlestar Galactica dead side, from the same defective pressing run. Most copies of side 2 have been 20 Frame Skip. Some copies of side 3 have 10,000 Frame Shift.
---
Release History
Tom Sawyer was never reissued on LaserDisc.
---
MCA DiscoVision Home Page
---
Updated: January 29, 2023
Copyright ©1998 Blam Entertainment Group