©1978 Universal City Studios, Inc. All rights reserved.
Catalog Number
12-010
Format
Standard Play CAV
MPAA Rating
Mono
Running Time
120 minutes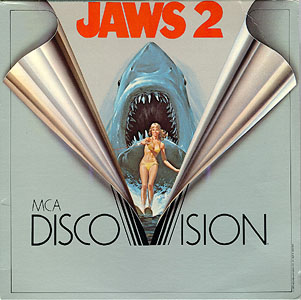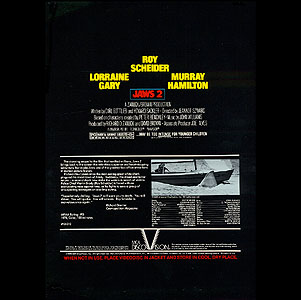 ---
| | |
| --- | --- |
| Pressing Location | DiscoVision Carson |
| Label Color | Blue |
| Issued | February 1979 |
Side
Frames
Running Time
1
33,202
23min 03sec
2
32,625
22min 39sec
3
35,170
24min 25sec
4
33,475
23min 15sec
5
33,948
23min 35sec
168,420
116min 58sec
Dead Side
Various
Ratings
Video Transfer
Audio Transfer
Replication
Packaging
Large Open-Top
Open-Top
Side-Open Sticker
Printed
Price History
Silver Catalog
$15.95
November 1979
$24.95
May 1980
$24.95
August 1980
$24.95
October 1980
$24.95
Pressing Notes
The transfer of the video on Jaws 2 is better than average, but looses points for being oversaturated in the reds. Further, the majority of the film appears to have been transferred directly from the unsqueezed 35mm anamorphic print, resulting in images which are too thin and tall. A common DiscoVision transfer technique, it actually looks great on a 16x9 television sets, when set into the "widescreen" mode. The audio is transferred well, but is a bit overdriven. There is also an annoying low frequency ground hum in the right channel during side 3 on some copies. The 4/5 side break is terrible - ranking up there with some of the worst in the entire history of side breaks. In DiscoVision's efforts to even out the sides, a the break follows directly after the shark eats the helicopter (I'm not kidding). Running the side for another 2,400 frames would have yielded a better break. Jaws 2 appeared in the original MCA DiscoVision catalog in 1978, and lasted until the October 1980 edition.

Some copies of sides 3 and 4 have are know to experience 20 Frame Skip. 10,000 Frame Shift has been noted on some copies of sides 2 & 5.

One mastering of side 5 - marked as W12-010 E2-18 - has three separate mastering flaws. First, the audio is out of phase. With both channels enabled, and listened to through a Surround decoder, the entire audio program will play in the surround channels. On some playback equipment, the audio will cancel itself out, rendering the audio almost non-existent. There are also two frame-level errors. Beginning at frame 1,615, snow developers and remains until frame 1,623. The players will typically just play through it with a bit of a video 'glitch'. More dramatic is a bit later, for three frames starting at 2,842, the video breaks up completely, producing frames of complete snow. How the player deals with this varies from playing effortlessly through the gaps to locking up, requiring a 'scan' function to bypass, to the player loosing sync and erroring out.

While not an 'official' Dead Side, we have run across a disc labeled as Jaws 2 Sides 1 & 2, which is indeed Jaws 2 on side 1, but is Heroes Side 2 on the other. Numeric dyslexia will get you every time, Heroes is 10-012, while Jaws 2 is 12-010.
---
Release History
Jaws 2 was finally reissued to modern LaserDisc fans in October 1992 by MCA/Universal Home Video (Catalog #: 41367). That version is a 2 sided CLV Widescreen (2.35:1) transfer pressed by WEA Manufacturing. A repressing at Pioneer Video was performed in the late 90s.
---
MCA DiscoVision Home Page
---
Updated: August 5, 2020
Copyright ©2004 Blam Entertainment Group