©1979 Universal City Studios, Inc. All rights reserved.
Catalog Number
16-017
Format
Standard Play CAV
MPAA Rating
Running Time
103 minutes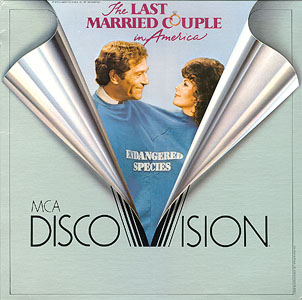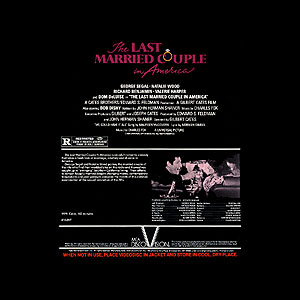 ---
Mono
Pressing Location
DiscoVision Carson
Label Color
Blue
Retail Price
$29.95
Year Issued
1980
Side
Frames
Running Time
1
35,670
24min 46sec
2
38,196
26min 31sec
3
36,380
25min 15sec
4
36,622
25min 25sec
146,868
101min 59sec
Ratings
Video Transfer
Audio Transfer
Replication
Packaging
Printed
Pressing Notes
The Last Married Couple in America was created on DiscoVision right in the middle of IBM's reign over the disc replication. During this period, the films which made it to disc were transferred with a deep brown tint to everything. Contrast is under fairly decent control, but the brightness is too high and washes everything out. The brown tint to everything makes the interiors of our "happy couple's" house look wonderful, with the real wood fixtures and decor, but it also gives the late Natalie Wood a permanent tan.

The audio transfer is possibly the worst audio transfer ever produced for videodisc. There are no highs, too many lows and it sounds as if they recorded the audio by placing a microphone in front of a 1½"x3" cone speaker from a 12" black and white television and turning the volume up too loud.

Disc replication is typical with that produced by the Carson facility at the time. Copies examined contain excessive speckles, far more than those discs produced prior to IBM's involvement. In fact, the more I think about it, the entire viewing experience of this title on DiscoVision feels like I am watching the film as a Sunday mid-day movie on the local independent TV station.
---
Release History
The Last Married Couple in America was never reissued on LaserDisc.
---
MCA DiscoVision Home Page
---
Updated: November 5, 2016
Copyright ©1998 Blam Entertainment Group