©1932 Paramount Publix Corp. Renewed ©1959 EMKA, Ltd. All rights reserved.
Catalog Number
21-003
Format
Standard Play CAV
Running Time
88 minutes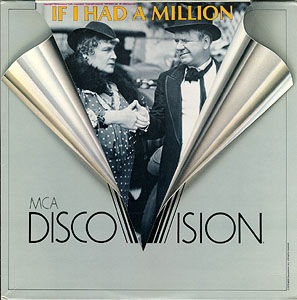 ---
Mono
Pressing Location
DiscoVision Carson
Label Color
Blue
Retail Price
$9.95
Year Issued
1979
Side
Frames
Running Time
1
34,592
24min 01sec
2
30,889
21min 27sec
3
28,882
20min 03sec
4
26,011
18min 04sec
120,374
83min 35sec
Ratings
Video Transfer
Audio Transfer
Replication
Packaging
Open-Top
Side-Open Sticker
Printed
Pressing Notes
A business tycoon has precious few days left in his life and rather than leave his money to his greedy family, sets out to find complete strangers, giving away a cool $1,000,000 to each. The film follows (briefly) each as their lives are changed by the money.

This disc includes the standard Black & White Bumpers. DiscoVision was up to its incredible magic on this title, giving the old 1932 Paramount Picture a very decent transfer. The print has some very noticeable splices throughout and it is obvious there are frames missing. However, the audio does not pop at the splices and remains smooth for the duration of the film. The audio is crisp and clear and it's easy to understand as the wealthy millionaire bellows at his doctor, secretary and so forth. There is mild surface noise from the print, but not more than one could expect from a film so old. DiscoVision really did excellent work on their black and white transfers. Eliminating the colorburst went along way to keeping the images preserved.

On side 2, beginning at frame 21443, the image is completely lost. The picture is restored at frame 21453. A similar error has been encountered on side 2 of The Bionic Woman. This defect is not present on all copies.
---
Release History
If I Had a Million was not reissued on LaserDisc. Portions of the film were issued as part of The Lubitsch Touch (Catalog #: 43226).
---
MCA DiscoVision Home Page
---
Updated: November 5, 2016
Copyright ©1998 Blam Entertainment Group