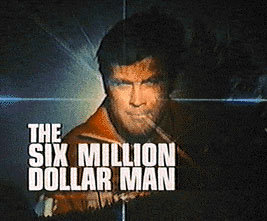 ©1976 Universal City Studios, Inc. All rights reserved.
Catalog Number
20-001
Format
Standard Play CAV
Running Time
96 minutes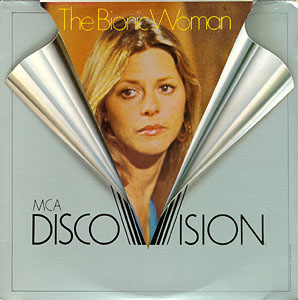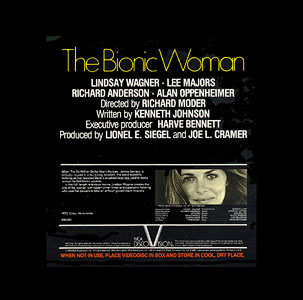 ---
Mono
Pressing Location
DiscoVision Carson
Label Color
Blue
Retail Price
$9.95
Issued
December 1978
Side
Frames
Running Time
1
34,873
24min 13sec
2
34,455
23min 56sec
3
34,116
23min 41sec
4
35,135
24min 14sec
138,579
96min 14sec
Ratings
Video Transfer
Audio Transfer
Replication
Packaging
Open-Top
Side-Open Sticker
Printed
Pressing Notes
This two part episode from the television series The Six Million Dollar Man, is a rare find. The disc labels on The Bionic Woman are the source of some controversy as the spelling of "Jaime" alternates with "Jamie" throughout the program. Regardless, "Welcome Home, Jaime" which is the subtitle of this program, was the actually title of the pilot episode title from "The Bionic Woman" television series. In that episode, Jamie suddenly recovers her memory which was lost as a result of her death ("The Bionic Woman" - the program on this disc) and resurrection ("The Return of the Bionic Woman"). In addition to the naming issue, the cast given on the film's credit roll and that presented on the disc jacket seem to differ. The credit roll appears to be the correct cast.

Almost all copies have a blank spot from frames 9,941 to 9,950 on side 2. However, at least one copy has been identified as including all the frames which have been found missing on all others. Since both good and bad copies have the same stamper and mastering information on them, we must conclude the master was damaged early in the production run of the title, resulting in the error on most copies. Some players will report chapter stops on side 3. This is a mistake in the coding, and there are no chapter stops. The Bionic Woman was listed for the last time in the October 1980 catalog.
---
Release History
The Bionic Woman was never reissued on LaserDisc.
---
MCA DiscoVision Home Page
---
Updated: November 15, 2016
Copyright ©1998 Blam Entertainment Group