©1962 Pakula-Mulligan Productions, Inc. and Brentwood Productions, Inc. All rights reserved.
Catalog Number
10-009
Format
Standard Play CAV
Running Time
129 minutes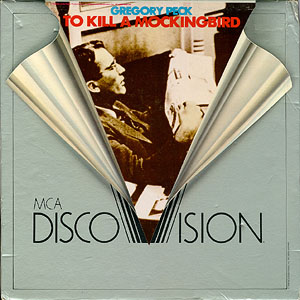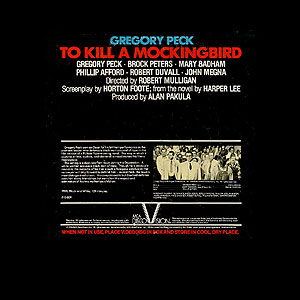 ---
Mono
Pressing Location
DiscoVision Carson
Label Color
Blue
Retail Price
$9.95
Issued
December 1978
Side
Frames
Running Time
1
34,794
24min 10sec
2
38,744
26min 54sec
3
35,747
24min 49sec
4
37,261
25min 53sec
5
39,878
27min 42sec
186,424
129min 28sec
Dead Side
Various
Ratings
Video Transfer
Audio Transfer
Replication
Packaging
Large Open-Top
Open-Top
Side-Open Sticker
Printed
Pressing Notes
To Kill a Mockingbird has become a highly sought after collectible among DiscoVision collectors and commands premium prices. It was dropped from the catalog after the October 1980 issue. There are at least 2 masters of this around as the frame count has varied on a dead side of side 1 found on a copy of Earthquake.

The video transfer for this 1963 feature is below average. The dark scenes are too dark, loosing all detail. The brightness seems to change from shot to shot, often multiple times within the same scene. The print used for this release is terrible, full of scratches, breaks and tears. There are obvious alias problems with some of the costumes. I was not overly impressed with the audio on this film either. However, one cannot deny the fact that the courtroom scene on side 4 contains a dramatic performance by Gregory Peck. This scene is punctuated by his long closing arguments which end very quietly. I found myself straining to hear his final words and realized the soundtrack was utterly silent except for his voice. I was impressed.

To Kill a Mockingbird by catalog number, should be listed in the Feature Films section under Drama. DiscoVision later moved the title into that category in subsequent catalogs. The only reason one can find for DiscoVision listing it as a "classic feature film" would be that it is in Black & White, and it was made before 1965. Lonely are the Brave also shares this numbering inconsistency, falling by number into the Action/Adventure category where it belongs.

There has been an interesting dead side located on a copy of this title. Side 2 of the experimental CLV National Lampoon's Animal House.
---
Release History
To Kill a Mockingbird was reissued on MCA Home Video in March 1987 as a 3 sided CLV/CAV disc (Catalog #: 10009). In May 1998 Universal Studios Home Video released a deluxe edition of To Kill a Mockingbird as part of their Signature Collection. This THX® certified Widescreen (1.85:1) Deluxe Edition (Catalog #: 43239) is spread across 4 extended play sides, with a new documentary and a running commentary from the director and producer.
---
MCA DiscoVision Home Page
---
Updated: November 7, 2016
Copyright ©2000 Blam Entertainment Group