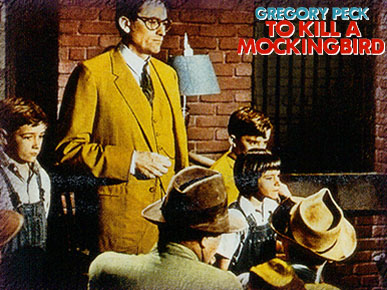 ©1962 Pakula-Mulligan Productions, Inc. and Brentwood Productions, Inc. All rights reserved.
Catalog Number
43239
Format
Extended Play CLV
Table of Contents
Running Time
130 minutes

Side
Chapters
Running Time
1
20
55min 50sec *
2
13
53min 52sec
3 +
8 (17)
23min 24sec
41
133min 06sec *
Supplemental Material
3
9
32min 18sec
4
16
57min 33sec
25
90min 71sec
* Side 1 begins with the theatrical trailer. The actual run time of the feature is 130min.

+ Because of the supplemental elements of side 3, the side is listed twice. The number within () represents the complete information for the side, including supplements.

| | |
| --- | --- |
| Pressing Location | Pioneer Video Manufacturing |
| Aspect Ratio | |
| Retail Price | $39.98 |
| Issued | May 5, 1998 |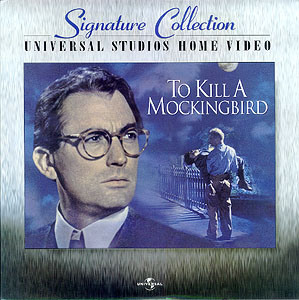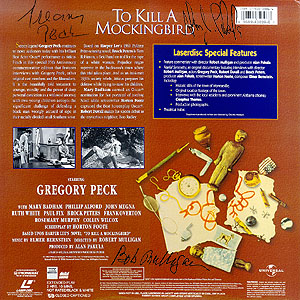 The set includes the following supplemental materials:
Presented in the 1.85:1 aspect ratio of the original 35 millimeter theatrical prints
Running audio commentary by director Robert Mulligan and producer Alan Pakula.
Fearful Symmetry, an original documentary featuring interviews with director Robert Mulligan, actors Gregory Peck, Robert Duvall and Brock Peters, producer Alan Pakula, screenwriter Horton Foote and composer Elmer Bernstein.
Including:
Historic stills of the town of Monroeville
Original location footage of the town
Interviews with the local residents and prominent Alabama attorney
Cleophus Thomas
Production photographs
Theatrical Trailer
*
CX Encoding on supplemental material only.
Synopsis:
Gregory Peck won an Oscar® for his brilliant performance as Atticus Finch, the southern lawyer who defends a black man accused of rape in this film version of a Pulitzer Price-winning novel. The way in which it captures a time, a place, and above all a mood makes this film a masterpiece.

The setting is a dusty southern town during the Depression. A white woman accuses a black man of rape. Though he is obviously innocent, the outcome of his trial is such a foregone conclusion that no lawyer will step forward to defend him -- except Peck, the town's most distinguished citizen. His compassionate but doomed defense costs him many friendships but earns him the respect and admiration of his two motherless children.
Last Updated: May 21, 1998
©1998 Blam Entertainment Group