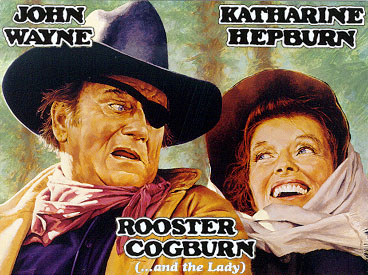 ©1975 Universal Pictures. All rights reserved.
Catalog Number
14-003
Format
Standard Play CAV
MPAA Rating
Running Time
107 minutes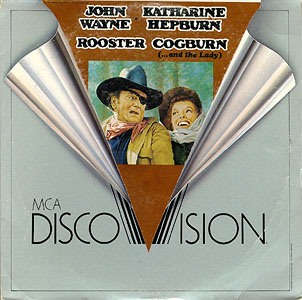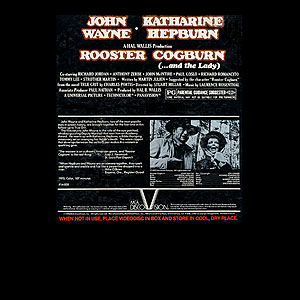 ---
Mono
Pressing Location
DiscoVision Carson
Label Color
Blue
Retail Price
$15.95
Issued
December 11, 1978
Side
Frames
Running Time
1
38,309
26min 36sec
2
39,529
27min 27sec
3
38,596
26min 48sec
4
38,855
26min 59sec
155,319
107min 50sec
Ratings
Video Transfer
Audio Transfer
Replication
Packaging
Open-Top
Side-Open Sticker
Printed
Pressing Notes
One of DiscoVision's earliest releases, copies of Rooster Cogburn shipped after September 1980 were repackaged in side-open jackets rather than open-top boxes. It last appeared in a DiscoVision catalog in the October 1980 edition.

Some collectors report that Rooster Cogburn is one of the most difficult discs to locate good copies of. There are reports of horrific tracking problems, even on the old Top-loading Tube LaserDisc players. Some attribute this to the very long sides (26 & 27 minutes), but other discs made at the same time sport sides of up to 29 1/2 minutes without tracking errors. Further reports show this to be a bit of an exaggeration, since there are multiple copies, located recently which are defect free and track without error.

The bumpers used by DiscoVision for this transfer are unique. They appear to be anamorphic bumpers, but are unsqueezed wrong so they appear as short and fat. This gives the appearance that they bow outward from the center. It is most noticeable on the opening graphics as the blue field comes out of the forming "V". Colors on the transfer are vibrant in the reds and blues. The dark scenes are too dark and the contrast changes even within the same camera shot. The entire video transfer of the Panavision film is unsqueezed, which would look terrific on a 16x9 TV set. The audio is clear throughout with all dialog very easily to understand. Even the clinking chains of the wagon carrying the Nitro-glycerin is unmistakable.

The scene on side 4 our three heroes shoot the rapids on a raft is light-years more believable that a similar scene made nearly 20 years later in Universal Pictures The River Wild. This alone is reason enough to watch this film.
---
Release History
Rooster Cogburn was issued in August 1987 by MCA Home Video (Catalog #: 14003/ID5117) in a package deal with several other titles through Image Entertainment. All copies were pressed by Pioneer. MCA/Universal Home Video issued a 2 sided CLV Widescreen (2.35:1) edition in June 1994 (Catalog #: 41781). This transfer is so stunning, it is almost like looking at a completely different movie.
---
MCA DiscoVision Home Page
---
Updated: November 15, 2016
Copyright ©2001 Blam Entertainment Group