©1963 Alfred J. Hitchcock Productions, Inc. All rights reserved.
Catalog Number
11-007
Format
Standard Play CAV
Running Time
119 minutes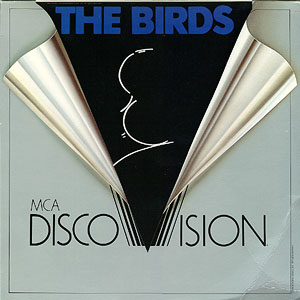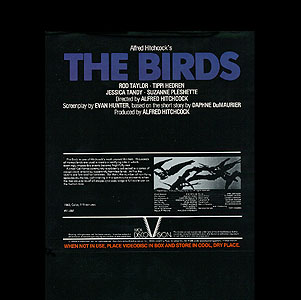 ---
Mono
Pressing Location
DiscoVision Carson
Label Color
Blue
Retail Price
$15.95
Year Issued
1979
Side
Frames
Running Time
1
35,516
24min 10sec
2
33,515
23min 17sec
3
40,321
28min 00sec
4
31,617
21min 57sec
5
31,522
21min 53sec
172,491
119min 47sec
Dead Side
Various
Ratings
Video Transfer
Audio Transfer
Replication
Packaging
Large Open-Top
Open-Top
Side-Open Sticker
Printed
Pressing Notes
The video transfer of The Birds is like nothing I've ever seen before. Most of the special effects are obvious rear projections, which gives the entire film a "fake" feeling. That aside, the transfer is very sharp and clear. It has terrific color, most of the time. There are periods of over-saturation on all colors which destroys the image. scenes which fade together often take on a whole new color tone during the fades. Not having seen any other presentation of this film, I can only speculate this is not how Hitchcock intended it to look.

On the audio front, there are obvious volume shifts within scenes and between sides. When listening to the film through a Dolby Pro-Logic Surround processor, the audio should stay clearly centered, as all properly mastered mono films should. I found it odd that during the bird attack sequences the surround channels came alive. Normally with DiscoVision pressings, this can be attributed to carrier shift and high-frequency bleed, but the surround channels remained quiet for all parts of the film, except the attacks. I don't believe it to be intentional, and since it covers many sides, I don't believe it to be defective discs. It is interesting - and spooky.

DiscoVision technicians saw fit to use the red bumpers when mastering The Birds. The last appearance of this odd Hitchcock thriller was in the October 1980 update.
---
Release History
MCA Home Video released a new version of The Birds as a 2 sided CLV disc in July 1986 (Catalog #: 11007).
---
MCA DiscoVision Home Page
---
Updated: January 29, 2023
Copyright ©2004 Blam Entertainment Group