©1948 Universal Pictures Company, Inc. Renewed: Universal Pictures. All rights reserved.
Catalog Number
22-008
Format
Standard Play CAV
Running Time
83 minutes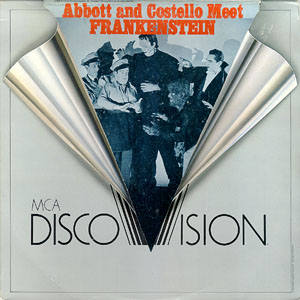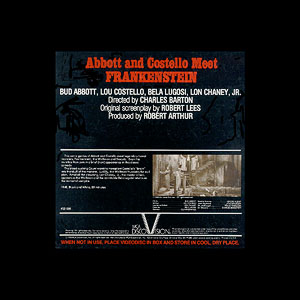 ---
Mono
Pressing Location
DiscoVision Carson
Label Color
Blue
Retail Price
$9.95
Issued
January 31, 1979
Side
Frames
Running Time
1
40,753
28min 18sec
2
38,284
26min 35sec
3
40,495
28min 07sec
119,532
83min 00sec
Dead Side
Various
Ratings
Video Transfer
Audio Transfer
Replication
Packaging
Open-Top
Side-Open Sticker
Printed
Pressing Notes
Abbott and Costello Meet Frankenstein is a shining example of what DiscoVision was supposed to represent. The image quality of the transfer is stunning with sharp focus. There are a few parts of the film where it is a bit dark which causes a loss of detail, but otherwise the transfer is excellent. The audio transfer is very well done also, with none of the hiss which normally accompanies these classic black & white films. The dynamic range is a bit limited, but this is likely what you would expect for a film made in 1948. As with all of the Black & White films, DiscoVision used the black & white bumpers for this title. Disc replication was problematic as all three sides are very long, timing in at 26 (side 2) and 28 minutes (sides 1&3). The review copy is very clean, with little or no speckling.

Abbott and Costello Meet Frankenstein is a rather odd selection for the film since it has more to do with Dracula than it does Frankenstein - however the underlying plot does involve using Costello's brain for the monster. This title is the hardest to find of the three Abbott & Costello films released on DiscoVision. It was removed from the DiscoVision catalog after the October 1980 catalog update.
---
Release History
Abbott and Costello Meet Frankenstein re-appeared on LaserDisc as part of MCA Home Video's Encore Edition in 1986 (Catalog #: 22008). It was reissued again in June 1994 as part of the Abbott & Costello Meet the Monsters Box set from MCA/Universal Home Video (Catalog #: 41787).
---
MCA DiscoVision Home Page
---
Updated: November 5, 2016
Copyright ©2004 Blam Entertainment Group