©1971 Universal City Studios, Inc. All rights reserved.
Catalog Number
19-002
Format
Standard Play CAV
Running Time
91 minutes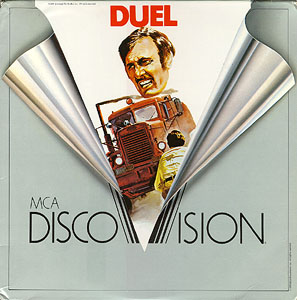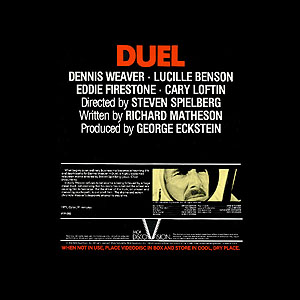 ---
Mono
Pressing Location
DiscoVision Carson
Label Color
Blue
Retail Price
$9.95
Issued
February 1979
Side
Frames
Running Time
1
39,675
27min 33sec
2
27,919
19min 23sec
3
30,040
20min 52sec
4
32,967
22min 54sec
130,601
90min 42sec
Ratings
Video Transfer
Audio Transfer
Replication
Packaging
Open-Top
Side-Open Sticker
Printed
Pressing Notes
Steven Spielberg's early film directorial work is highlighted by this made-for-TV feature starring Dennis Weaver as a motorist plagued by a crazed truck driver. Spielberg fans will notice the similarity in the director's handling of the demise of an 18 wheeler and, in a later film, a two ton "eating machine." This title makes for some of the shortest sides ever pressed by DiscoVision, and is also one of the shortest pressing runs produced.

The video transfer of Duel is acceptable, however the source material, 35mm film, has some obvious flaws and they show up on the screen. The audio is transferred well, however, it seems the audio and video are out of sync by more than a full second for the famous truck crash sequence. Not having personally seen the film in any other venue than DiscoVision, I cannot be sure if this is the directors intent, or a mistake in the transfer.

Some copies have additional information at the end of side 3. A player which ignores the "end of side" is required to play this additional program. What has been discovered is SMPTE color bars and 1000hz tone. During the test pattern, the frame counter remains stationary. However, further down the disc, the counter resets, the typical side opening bumper begins, announcing side 4...of Duel. The first 8,290 frames of side 4 are present before there simply isn't any recorded material left on the disc and the player looses sync. The complete side 4 is then presented, on side 4.
---
Release History
Duel was released in December 1993 by MCA/Universal Home Video (Catalog #: 41752).
---
MCA DiscoVision Home Page
---
Updated: November 15, 2016
Copyright ©2001 Blam Entertainment Group