©1972 Universal Pictures. All rights reserved.
Catalog Number
10-007
Format
Standard Play CAV
MPAA Rating
Running Time
104 minutes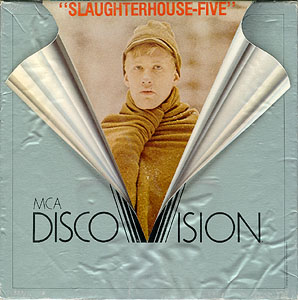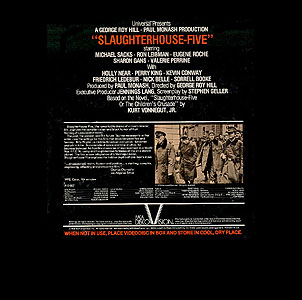 ---
Mono
Pressing Location
DiscoVision Carson
Label Color
Blue
Retail Price
$15.95
Year Issued
1978
Side
Frames
Running Time
1
42,430
29min 27sec
2
40,291
27min 58sec
3
36,623
25min 25sec
4
29,876
20min 44sec
149,220
103min 37sec
Ratings
Video Transfer
Audio Transfer
Replication
Packaging
Open-Top
Side-Open Sticker
Printed
Pressing Notes
The discs are mastered using the red bumpers. The opening DiscoVision bumper can be seen in its entirety as frame 0 is encoded at the beginning of the bumper. The film does not include the standard DiscoVision tag at the end which discusses copyright protection. The film simply ends and the spiral bumper comes on.

The transfer is wonderful. The film is shot very neutral and plain but when something important is displayed, like the blood on Billy's face after the plane crash or the fires of Dresden after the bombing. The audio is full and well presented. I was shocked to hear the bass which is present at the end of side 2 during the orchestral movements. Replication is very clean as well, with only minor speckling present. The side breaks chosen by DiscoVision are interesting in that the first two sides are crammed full, with sides 3 & 4 running only 45 minutes total. Still, there are no tracking difficulties or laserlock present.
---
Release History
Slaughterhouse Five was issued in 1987 by MCA Home Video (Catalog #: 10007/ID5092) in a package deal with several other titles through Image Entertainment. All copies were pressed by 3M Manufacturing. It has since been reissued in a Widescreen 2 sided CLV edition on MCA/Universal Home Video (Catalog #: 42577).
---
MCA DiscoVision Home Page
---
Updated: November 15, 2016
Copyright ©2000 Blam Entertainment Group