©1977 Universal City Studios, Inc. All rights reserved.
Catalog Number
15-003
Format
Standard Play CAV
MPAA Rating
Running Time
130 minutes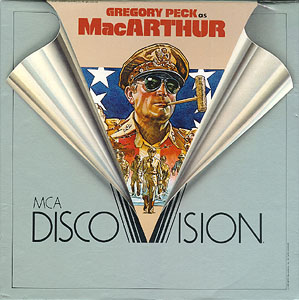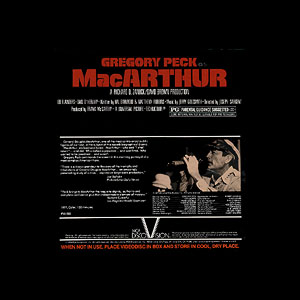 ---
Mono
Pressing Location
DiscoVision Carson
Label Color
Blue
Retail Price
$15.95
Issued
December 1978
Side
Frames
Running Time
1
39,159
27min 11sec
2
38,179
26min 30sec
3
37,927
26min 20sec
4
34,692
24min 05sec
5
36,825
25min 34sec
186,782
129min 42sec
Dead Side
Various
Ratings
Video Transfer
Audio Transfer
Replication
Packaging
Large Open-Top
Open-Top
Side-Open Sticker
Printed
Pressing Notes
MacArthur's transfer is among the best done by DiscoVision on its color films. While many transfers are too dark, this title received special treatment. The colors are vivid and sharp, the contrast and white balance is well controlled and is never overpowering. The audio transfer, while a little on the hot side, is recorded with incredible dynamic range. There are scenes which contain some of the finest low-end ever presented on DiscoVision. Disc replication is fairly constant, with minor speckling throughout.

MacArthur was filed in the 15-000's "biographies" series with Fellini's Casanova and Coal Miners Daughter. The frame counter on side 1 doesn't begin to increment past frame 0 until after the Universal Pictures logo has completed. This causes some industrial players to go insane when trying find frame 0 in the initial search routine. Consumer units have no such problem.
---
Release History
MacArthur was reissued on LaserDisc in October 1987 as a 3 sided CLV/CAV release from MCA/Universal Home Video (Catalog #: 15003).
---
MCA DiscoVision Home Page
---
Updated: November 7, 2016
Copyright ©2005 Blam Entertainment Group