© 1931 Universal Pictures Corporation. All rights reserved.
Catalog Number
23-001
Format
Standard Play CAV
Running Time
75 minutes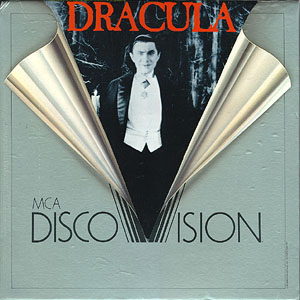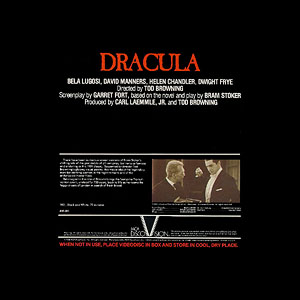 ---
Mono
Pressing Location
DiscoVision Carson
Label Color
Blue
Retail Price
$9.95
Issued
December 1978
Side
Frames
Running Time
1
38,194
26min 31sec
2
39,755
27min 36sec
3
29,586
20min 32sec
107,535
74min 40sec
Dead Side
Various
Ratings
Video Transfer
Audio Transfer
Replication
Packaging
Open-Top
Side-Open Sticker
Printed
Pressing Notes
Copies of Dracula, one of DiscoVision's premiere titles, sold out quickly making this one more than a little difficult to locate. The video transfer is stunning. DiscoVision struck this edition from an original nitrate release print, which explains the incredible sharp detail in the image. There are some horrible repairs on the film, and other damage is evident throughout, but on the hole, the transfer is excellent. It looses some minor points for being too closely cropped. For example, during the opening credits, the bottom name cannot be seen at all. The transfer also suffers in some places from being washed out completely.

The audio transfer is another story all together. While the dialog is crisp and clear, there is that typical 1930s hiss which is inherent in all the films from this period. While this isn't really DiscoVision's fault, they could have incorporated some filtering or noise reduction.

Disc replication is about average. Of the copies examined, none were perfect, with varying degrees of speckling and high-frequency noise. However, none have been unwatchable. Dracula was last listed in DiscoVision's October 1980 catalog update.
---
Release History
In October 1988, MCA Home Video reissued Dracula as an Encore Edition title. (Catalog #: 23001).
---
MCA DiscoVision Home Page
---
Updated: September 10, 2019
Copyright ©2002 Blam Entertainment Group