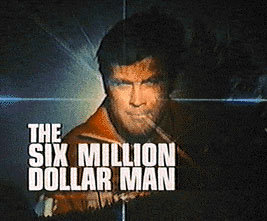 ©1973 Universal City Studios, Inc. All rights reserved.
Catalog Number
19-003
Format
Standard Play CAV
Running Time
75 minutes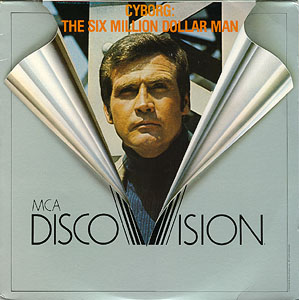 ---
Mono
Pressing Location
DiscoVision Carson
Label Color
Blue
Retail Price
$9.95
Issued
January 1979
Side
Frames
Running Time
1
35,047
24min 20sec
2
35,257
24min 29sec
3
37,015
25min 42sec
107,319
74min 31sec
Dead Side
Various
Ratings
Video Transfer
Audio Transfer
Replication
Packaging
Open-Top
Side-Open Sticker
Printed
Pressing Notes
The "original" pilot film for the long running Six Million Dollar Man television series was mastered from film. This episode was one of three "Bionic" shows transferred to laser by DiscoVision. The Bionic Woman and The Secret of Bigfoot are the other two. Cyborg last appeared in the October 1980 catalog.

The audio and video transfers are consistent with what one can expect from DiscoVision's source material. The 35mm film elements used in this transfer appear faded, but only 6 years after production, one would have to assume the elements are as filmed. Some masterings of side 2 have 10,000 Frame Shift.
---
Release History
Cyborg never reappeared on LaserDisc.
---
MCA DiscoVision Home Page
---
Updated: November 15, 2016
Copyright ©1998 Blam Entertainment Group