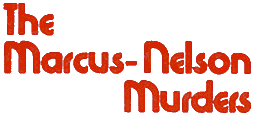 ©1973 Universal City Studios, Inc. All rights reserved.
Catalog Number
19-006
Format
Standard Play CAV
Running Time
144 minutes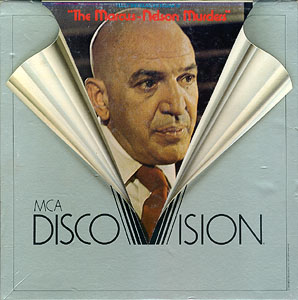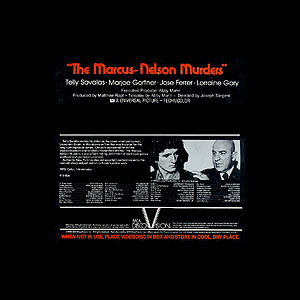 ---
Mono
Pressing Location
DiscoVision Carson
Label Color
Blue
Retail Price
$15.95
Issued
September 1979
Side
Frames
Running Time
1
41,463
28min 47sec
2
42,214
29min 18sec
3
42,218
29min 19sec
4
40,062
27min 49sec
5
40,831
28min 21sec
206,788
143min 36sec
Dead Side
Various
Ratings
Video Transfer
Audio Transfer
Replication
Packaging
Large Open-Top
Open-Top
Side-Open Sticker
Printed
Pressing Notes
Listed among DiscoVision's Television Movies section in the 1978 Silver Catalog, The Marcus-Nelson Murders served as the pilot for the long running Kojak television series. The disc is a prime example of collectible DiscoVision at its best! The video transfer is quite sharp and clear, however it also tends to be a little dark during the first side. Audio transfer is crisp and clear and represents the film well. I find it interesting how the spelling of "Kojak" changed between this pilot and the subsequent television series. The end credits list the character's name as "Kojack".

Some have noted the film print used contains a bit of grain, but I could not see any visible traces of grain on the review copies. It is possible that individual television settings (sharpness in particular) can induce these types of visual problems. The long running times of all sides have been known to cause tracking problems in some players.

The disc includes the normal orange bumpers, but several are shifted to the left, causing the spiral pattern to be significantly off-center. Side 1 jumps into the bumper at the end, but the audio continues for about 150 frames. It's nothing more than some minor music, but still isn't a clean cut. The typical end bumper about illegal copying is missing from this disc.
---
Release History
The Marcus-Nelson Murders was never seen again LaserDisc after the demise of DiscoVision.
---
MCA DiscoVision Home Page
---
Updated: October 20, 2018
Copyright ©2004 Blam Entertainment Group