©1960 Shamley Productions, Inc. All rights reserved.
Catalog Number
11-003
Format
Standard Play CAV
Running Time
108 minutes
---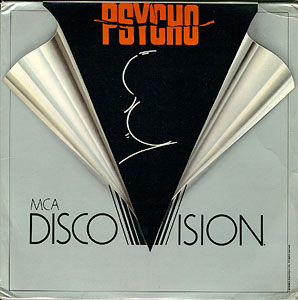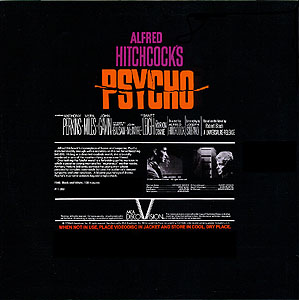 Mono
Pressing Location
DiscoVision Carson
Label Color
Blue
Retail Price
$15.95
Year Issued
1979
Side
Frames
Running Time
1
30,668
21min 18sec
2
32,737
22min 44sec
3
30,615
21min 16sec
4
31,208
21min 40sec
5
32,025
22min 14sec
157,253
109min 12sec
Dead Side
Various
Ratings
Video Transfer
Audio Transfer
Replication
Packaging
Large Open-Top
Open-Top
Side-Open Sticker
Printed
Pressing Notes
Of the four Alfred Hitchcock films released on the DiscoVision label, Psycho was generally the most available. This version faded from sight during late 1980 and was listed for the last time in the October 1980 catalog.

The video transfer is first rate. It would have rated a full 5 stars, except for some of the dark scenes where nothing can be seen. The black & white image is sharp, well defined and is very well represented on this Extended Play edition. The audio is very well done, but is given to very loud spots at points during the film, which tends to blare out everything else in the room. (not necessarily a bad thing). The audio seems just a hair out of sync with the video. This is most likely the result of how DiscoVision transferred the audio. It has been reported that the transfer technician located an original 35mm mag print master soundtrack and synchronized it to the print during the transfer. This accounts for the lack of audio interruption during the numerous breaks which are present in the transfer print.

One of the copies reviewed had an interesting mastering trait. Several hundred frames beyond the end of side 5, the frame numbers begin again. Not uncommon for all DiscoVision discs, but if allowed to play out, a Color bar and test tone pattern appears. This lasts for several thousand frames and then the DiscoVision music begins and the opening graphics for side 2 of Three Days of the Condor begin. The first 29 frames of are present, the frame counter resets to 1 and then the entire mess is repeated 3 times before the normal black background returns for the balance of the playable side.
---
Release History
MCA/Universal Home Video released a new version of Psycho in August 1988 (Catalog #: 11003). In May 1998 Universal Studios Home Video released a deluxe edition of Psycho as part of their Signature Collection. This THX® certified Widescreen (1.85:1) Deluxe Edition (Catalog #: 43105) is spread across 4 extended play sides and 1 standard play side, and includes a new documentary and isolated Bernard Hermann score.
---
MCA DiscoVision Home Page
---
Updated: March 28, 2018
Copyright ©2004 Blam Entertainment Group