©1960 Shamley Productions, Inc. Renewed 1988 by Universal City Studios, Inc. All rights reserved.
Catalog Number
43105
Format
Extended Play CLV
Table of Contents
Running Time
108 minutes

Side
Chapters
Frames
Running Time
1
12
59min 19sec
2
15
50min 06sec
27
109min 25sec
Supplemental Material
3
12
58min 38sec
4
15
42min 10sec
5
9
18,171
12min 25sec *
36
113min 13sec
* Contains untimed still elements. Due to variations in transferring film and video to LaserDisc, exact run time may vary.

| | |
| --- | --- |
| Pressing Location | Pioneer Video Manufacturing |
| Aspect Ratio | |
| Retail Price | $49.98 |
| Issued | May 26, 1998 |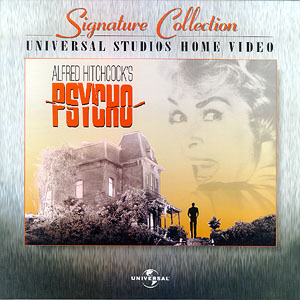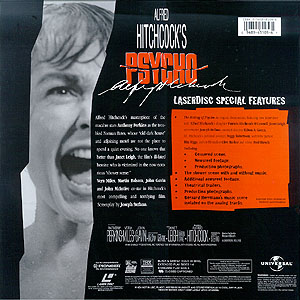 The set includes the following supplemental materials:
Presented in the 1.85:1 aspect ratio of the original 35 millimeter theatrical prints
The Making of Psycho, an original documentary featuring new interviews with Janet Leigh and Patricia Hitchcock O'Connell (the director's daughter), screenwriter Joseph Stefano, assistant director Hilton A. Green and others associated with the production of the film.
Isolated Bernard Herrmann music score
A Censored scene
Newsreel Footage
Production Photographs
The infamous shower scene with and without music
Theatrical Trailer
Synopsis:
Alfred Hitchcock's masterpiece of horror and suspense, Psycho starts believably enough with a secretary on the run for embezzling $40,000. Hiding in a deserted roadside motel, she is brutally murdered in one of the most terrifying scenes ever filmed.

Overlooking the fateful motel is a forbidding gothic mansion in which a peculiar young man and his mysterious mother reside. Anthony Perkins brilliantly portrays the young man whose personality complex commands by turns the audience's deepest sympathy and utter revulsion. A bizarre psychological drama. Psycho's true terror extends beyond simple shock.
Last Updated: June 1, 1998
©1998 Blam Entertainment Group