©MCMLXXV Dino De Laurentiis Corporation. All rights reserved.
Catalog Number
P11-510
Format
Standard Play CAV
MPAA Rating
Mono
Running Time
118 minutes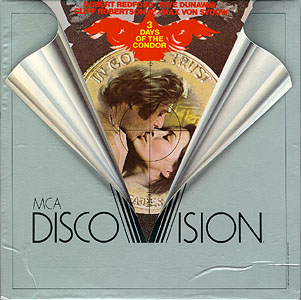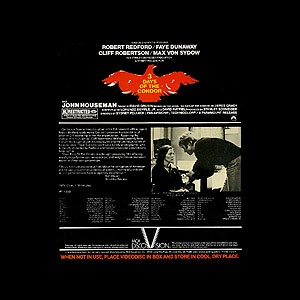 ---
| | |
| --- | --- |
| Pressing Location | DiscoVision Carson |
| Label Color | Blue |
| Issued | March 1979 |
Side
Frames
Running Time
1
34,579
24min 00sec
2
33,099
22min 59sec
3
35,762
24min 50sec
4
34,079
23min 39sec
5
33,808
23min 29sec
171,327
118min 58sec
Dead Side
Various
Ratings
Video Transfer
Audio Transfer
Replication
Packaging
Large Open-Top
Open-Top
Side-Open Sticker
Printed
Price History
Silver Catalog
$15.95
November 1979
$24.95
May 1980
$24.95
August 1980
$24.95
October 1980
$24.95
Pressing Notes
Three Days of the Condor is unique in that it has the entire opening credits sequence in 2.35:1 widescreen. It's not what we now know as widescreen however, and uses the Paramount Pictures standard "lattice work" pattern to fill out the area now called "black bars". It makes you feel like there is too much going on on the screen and is most distracting, especially when it shows off every dropout on the screen. Paramount did similar things with many of their films when transferring them to video. Specific examples which come to mind are The Big Bus, Romeo and Juliet and Star Trek IV: The Voyage Home. The last DiscoVision catalog appearance for Condor was the October 1980 update.

The video transfer of Three Days of the Condor is sharp and clear. However there are variations in the color balance from shot to shot, some are too high in contrast, while others appear too blue. The audio transfer is capable of some very wide ranges, but there is an annoying ground hum which pops up every so often. It's most noticeable during the quiet passages of the film. Replication is only average. Most sides have varying degrees of speckling.

Some masterings of side 4 exhibit 10,000 Frame Shift.
---
Release History
Three Days of the Condor was later released on Paramount Home Video on a 2 sided CLV Japan pressed disc (Catalog #: LV8803) and again later in a remastered Widescreen edition (Catalog #: LV8803-WS).
---
MCA DiscoVision Home Page
---
Updated: September 5, 2022
Copyright ©2004 Blam Entertainment Group