©1970 Paramount Pictures Corporation. All rights reserved.
Catalog Number
P10-523
Format
Standard Play CAV
MPAA Rating
Running Time
100 minutes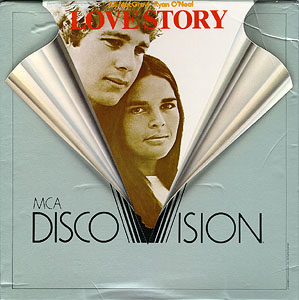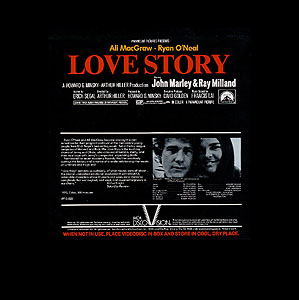 ---
Mono
Pressing Location
DiscoVision Carson
Label Color
Blue
Retail Price
$15.95
Issued
January 1978
Side
Frames
Running Time
1
35,191
24min 26sec
2
38,068
26min 26sec
3
35,967
24min 59sec
4
35,603
24min 43sec
144,829
100min 34sec
Ratings
Video Transfer
Audio Transfer
Replication
Packaging
Open-Top
Side-Open Sticker
Printed
Pressing Notes
Love Story, a Paramount Picture, was licensed to MCA DiscoVision under a short-term agreement granting permission for a group of Paramount films to be issued on the laser format. Of all nine titles that were announced, eight in the Silver Catalog and one in catalog updates, only a total of five shipped from the DiscoVision facility.

DiscoVision did quite well with the video transfer on Love Story. The contrast and brightness are well balanced, even in the few night scenes. There were no concerns by the wardrobe department in 1970 to watch what types of clothing their actors wore when it came to these films. While Ryan O'Neal dresses up quite nicely, the suite from Botany 500 didn't transfer well into video and create awful aliasing problems. The color is rather bland, but it appears to have been shot that way, rather than being a fault in this video representation. The audio is clean and clear, with only minor errors.

The replication period began in December 1978 and the last piece of software left the warehouse in February 1981. The discs are clean and nearly speckle free for the entire 100 minutes of the film. The review copy had some minor audio static on side 1, which is a fault of the individual disc and is not an indication of a mastering error.
---
Release History
Love Story was reissued by Paramount Home Video as a 2 sided CLV disc (Catalog #: LV8006).
---
MCA DiscoVision Home Page
---
Updated: November 15, 2016
Copyright ©2002 Blam Entertainment Group