©1978 Universal City Studios, Inc. All rights reserved.
Catalog Number
12-005
Format
Standard Play CAV
MPAA Rating
Running Time
111 minutes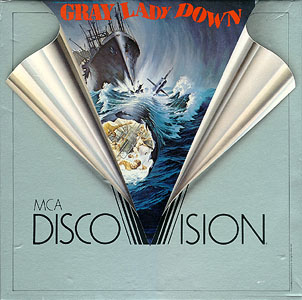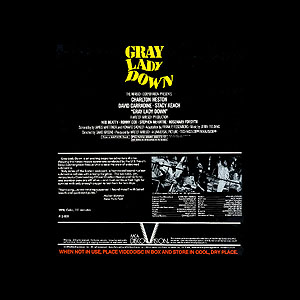 ---
Mono
Pressing Location
DiscoVision Carson
Label Color
Blue
Retail Price
$15.95
Year Issued
1979
Side
Frames
Running Time
1
33,476
23min 14sec
2
31,066
21min 34sec
3
31,659
21min 59sec
4
31,452
21min 50sec
5
32,736
22min 44sec
160,389
111min 22sec
Dead Side
Various
Ratings
Video Transfer
Audio Transfer
Replication
Packaging
Large Open-Top
Open-Top
Side-Open Sticker
Printed
Pressing Notes
Good copies of Gray Lady Down are known to be rare. Most have reported troubles finding acceptable sides 3/4. This aside, replication is about average for this DiscoVision title, with the standard amount of inclusion. The video transfer rates only as average. While it received high marks for color balance in most areas of the film, shots inside the submarine too blue. Additionally, the exterior underwater shots are poorly contrasted and it is almost impossible to see any detail. The Audio transfer is better and is fairly free from background noise. Even the "over the air" radio dialog is clean and clear without any tinny side effects which are common in many of the DiscoVision transfers. There are a few occasions where the audio breaks up during exceptionally loud passages, but it is mild. 10,000 Frame Shift has been identified to exist on some masterings of Side 5.

Not having seen this movie for a long time, I was kind of surprised to see that Charlton Heston lives through the closing credits. He ends up dying in all of his other DiscoVision appearances.
---
Release History
Gray Lady Down was never reissued on LaserDisc after the fall of DiscoVision.
---
MCA DiscoVision Home Page
---
Updated: November 7, 2016
Copyright ©2004 Blam Entertainment Group