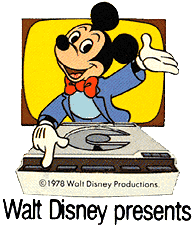 ©MCMLIX Walt Disney Productions. All rights reserved.
Catalog Number
D61-506
Format
Standard Play CAV
Running Time
47 minutes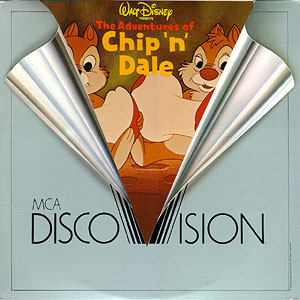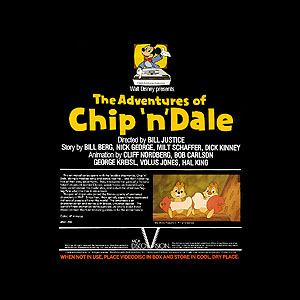 ---
Mono
Pressing Location
DiscoVision Carson
Label Color
Green
Retail Price
$9.95
Issued
February 1979
Side
Frames
Running Time
1
47,148
26min 11sec
2
38,324
21min 17sec
85,472
47min 29sec
Ratings
Video Transfer
Audio Transfer
Replication
Packaging
Open-Top
Side-Open Sticker
Printed
Pressing Notes
The Adventures of Chip 'n' Dale on DiscoVision are completely different from the Walt Disney Home Video "Cartoon Classics" disc of the same title (Catalog #: 46AS). One of several episodes of the Wonderful World of Disney television program which made its way to the DiscoVision catalog. Although Walt Disney Company flatly denies any involvement with DiscoVision, one cannot argue the titles exist.

The program has been transferred from film and DiscoVision neglected to properly adjust for the 3/2 pull down necessary for the 24fps of film. As a result, freeze frames are jittery and unstable for the duration of the program. The video transfer is sharp and clear, but varies throughout the program, only because of the age of the source. Many of the cartoons featured in this collection are from the 40's and early 50's and do not blend well with the newer footage.

Based solely on copies I've personally checked, replication on this title is terrible. I could go so far as to say that this may be one of the harder titles to locate a good copy of. I've seen bad discs before, but this is a radical departure from quality, even for DiscoVision. There are good copies out there, but you may be looking for a long while. Even the "acceptable" copies have had some speckling throughout, especially on the first side. At least one mastering of side 2 exhibited 20 Frame Skip.
---
Release History
The Adventures of Chip 'n' Dale never reappeared on LaserDisc.
---
MCA DiscoVision Home Page
---
Updated: November 15, 2016
Copyright ©1998 Blam Entertainment Group