©1978 Universal City Studios, Inc. All rights reserved.
Catalog Number
19-007
Format
Standard Play CAV
MPAA Rating
Running Time
123 minutes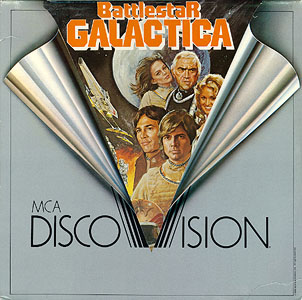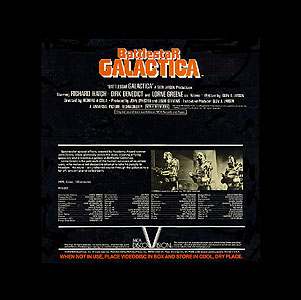 ---
Mono
Pressing Location
DiscoVision Carson
Label Color
Blue
Retail Price
$9.95
Year Issued
December 11, 1978
Side
Frames
Running Time
1
36,864
25min 36sec
2
40,751
28min 18sec
3
35,662
24min 46sec
4
30,929
21min 29sec
5
35,577
24min 42sec
179,773
124min 51sec
Dead Side
Various
Ratings
Video Transfer
Audio Transfer
Replication
Packaging
Large Open-Top
Open-Top
Side-Open Sticker
Printed
Pressing Notes
Battlestar Galactica is very rare. Released only in an Open Top box, the film spans 5 sides. The video transfer is first rate. The copies reviewed for this entry has some static in the audio during sides 3 & 4 indicating they may be the most difficult to find good copies of. The title was listed in the "Television Movies" section of the DiscoVision catalog in the Silver Catalog. The film was re-classified as a Feature Film (and given a hefty price increase) in all of the subsequent DiscoVision fliers and later, when the film was reissued on MCA Videodisc.

There are several masterings of most sides, Some copies of side 1 contain almost no audio on the right channel. Found on completed sets as well as dead sides, it is not known how many faulty copies exist. Sides 2,3 & 5 have also been reported to have phase problems in the audio - a fairly typical DiscoVision trouble. Side 4 has also been found on deadsides of various titles which has a terrible replication fault and poorly produced master. It causes laserlock and excessive noise (both video and audio) for the first 5,000 frames.

Addition information has been found at the end of some copies of side 4. A player which ignores the "end of side" is required to play this additional program. What has been discovered is SMPTE color bars and 1000hz tone. During the test pattern, the frame counter remains stationary. This is repeated several times and then black returns. Left to play out, during the black, there is also a small section of audio from side 5 of the title which lasts about 5 seconds.

One specific mastering of Side 5 (19-007E1-2) has the audio carrier shifted off center, creating audio static through the entire side. Other masterings do not have this issue and play cleanly.
---
Release History
Battlestar Galactica was reissued by MCA Videodisc in 1982 (Catalog #: 19-007) as a time-compressed 2 sided CLV disc. The time compression reduced the running time from 124 minutes to 118 minutes. The transfer is the same as used on the DiscoVision edition, however the pressing out of the Universal Pioneer plant in Japan is terrible. It was later repressed by Pioneer USA, but they didn't make any improvements to the disc. The title in Japan was issued at the full running time of 124 minutes.
---
MCA DiscoVision Home Page
---
Updated: October 20, 2018
Copyright ©2015 Blam Entertainment Group