©1931 Universal Pictures Corp. All rights reserved.
Catalog Number
23-002
Format
Standard Play CAV
Running Time
71 minutes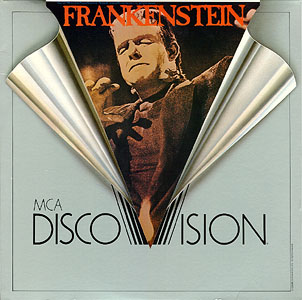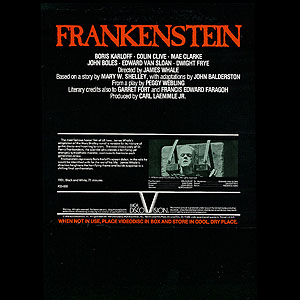 ---
Mono
Pressing Location
DiscoVision Carson
Label Color
Blue
Retail Price
$9.95
Issued
December 1978
Side
Frames
Running Time
1
33,145
23min 01sec
2
30,921
21min 28sec
3
35,510
24min 40sec
99,576
69min 09sec
Dead Side
Various
Ratings
Video Transfer
Audio Transfer
Replication
Packaging
Open-Top
Side-Open Sticker
Printed
Pressing Notes
Frankenstein was another of the original DiscoVision titles available at the product launch. The first adaptation of Marry Shelly's novel about Dr. Frankenstein's experiments has become not only a cinematic classic, but a DiscoVision collector's classic as well. The transfer to disc is of highest quality and and was handled very well by MCA video engineers. Frankenstein last appeared in the October 1980 catalog. Side bumpers are presented in full Black & White.

The print has some very noticeable splices throughout and it is obvious there are frames missing. Some cases there appear to be several feet of film missing. However, the audio pops only slightly at the splices and remains smooth for the duration of the film. There is a drop in volume at each reel change in the film which took several seconds for the transfer technician to correct each time. There is mild surface noise from the print, but not more than one could expect from a film so old.

The side 1-2 side break is stupidly placed. DiscoVision could have run side 1 about 3,500 frames longer and placed the side break at a natural fade out/fade in as they did for the side 2-3 break. Breaking in the middle of the creation sequence simply doesn't make any sense.
---
Release History
MCA Home Video reissued Frankenstein in December 1986 as an Encore Edition title (Catalog #: 23002).
---
MCA DiscoVision Home Page
---
Updated: May 12, 2019
Copyright ©2000 Blam Entertainment Group