©1935 Universal Pictures. All rights reserved.
Catalog Number
23-003
Format
Standard Play CAV
Running Time
79 minutes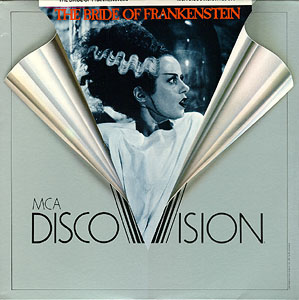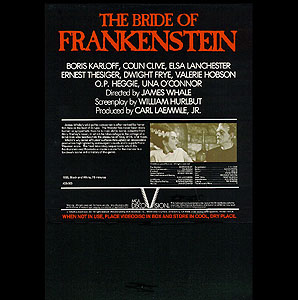 ---
Mono
Pressing Location
DiscoVision Carson
Label Color
Blue
Retail Price
$9.95
Year Issued
1978
Side
Frames
Running Time
1
36,979
25min 40sec
2
36,902
25min 37sec
3
34,120
23min 41sec
108,001
75min 00sec
Dead Side
Various
Ratings
Video Transfer
Audio Transfer
Replication
Packaging
Open-Top
Side-Open Sticker
Printed
Pressing Notes
The video transfer of The Bride of Frankenstein was taken from an actual 1935 nitrate theatrical print. As a result, the film "hops" noticeably on the screen as the transfer equipment was never designed to handle the nitrate film stock. Otherwise, the video is sharp and clean, with only very minor contrast problems in the very dark scenes. Audio transfer is normal for a film of its age, with a constant hiss. However, the dialog is clear and understandable throughout. There is a section on side 2 around frame 2,500 where there is no audio. This occurs at a reel division and does not appear to be the fault of DiscoVision, except in their choice of prints to use. The side bumpers are in Black & White.

The replication has some interesting troubles on side 3. There are two NTSC vertical blanking lines which appear in the middle of frame, for a single frame. This occurs at 4 spots in the side. One, at frame 24070, doesn't even have a frame encoded as the player will skip over it when stepping through. Additionally, someone was asleep at the switch and encoded an Automatic Picture Stop at frame 12,563. This signal would be ignored by players in 1979, but today's players hit it every time.
---
Release History
The Bride of Frankenstein was reissued in November 1985 on LaserDisc by MCA Home Video (Catalog #: 23003) as a 2 sided CLV/CAV Encore Edition title.
---
MCA DiscoVision Home Page
---
Updated: November 7, 2016
Copyright ©2000 Blam Entertainment Group