© Universal City Studios, Inc. All rights reserved.
Catalog Number
12-011
Format
Standard Play CAV
MPAA Rating
Running Time
119 minutes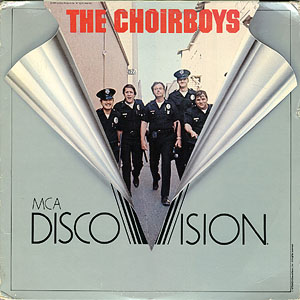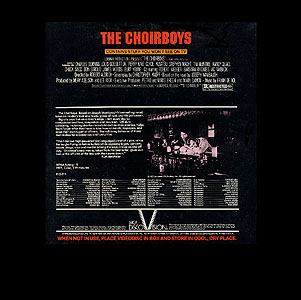 ---
Mono
Pressing Location
DiscoVision Carson
Label Color
Blue
Retail Price
$15.95
Issued
December 1978
Side
Frames
Running Time
1
35,099
24min 23sec
2
34,641
24min 03sec
3
35,474
24min 38sec
4
36,000
25min 00sec
5
33,313
23min 08sec
174,527
121min 12sec
Dead Side
Various
Ratings
Video Transfer
Audio Transfer
Replication
Packaging
Large Open-Top
Open-Top
Side-Open Sticker
Printed
Pressing Notes
A black comedy about life on the Los Angeles police force, The Choirboys proudly proclaims beneath the film's title on the back of the jacket, "Contains stuff you won't see on TV". MCA probably left this theatrical "teaser" intact for the disc version to show off the fact that home video releases were not edited as are television versions of most films. The Choirboys was one of the very first laser discs made available to the Atlanta test market back in 1978. The best way to describe the film is a cross between Hill Street Blues and National Lampoon's Animal House. It's not a comedy in the strict sense of the word, but these cops are so offbeat, one can hardly ignore the comparison. The film was billed as a "black comedy" but was [wisely] placed in the 12-xxx catalog sequence under Action/Adventure rather than outright comedy.

The video transfer is sharp and clean, maintaining detail even in the extensive night shots. The audio is tinny and over-emphasized in the highs. There are entire portions where the audio contains a high pitch whine, mostly during scenes within police cars. Also present on side 5 is an annoying buzz which we must assume is the noise from a cassette recorder in the interrogation room. The effect is poorly executed and we find it mostly annoying.

Between frames 8,200 and 8,300 on side 3, the frame to jump quite a bit in the telecine gate. It's an error in the transfer and not in individual discs. Side 5 ends in a "freeze frame" spiral graphics, rather than the spinning graphics which are normal. The disc doesn't actually freeze frame, this odd bumper is a couple hundred frames of the same image.
---
Release History
The Choirboys was not reissued on LaserDisc.
---
MCA DiscoVision Home Page
---
Updated: July 7, 2019
Copyright ©2004 Blam Entertainment Group