©1976 Universal Pictures. All rights reserved.
Catalog Number
12-003
Format
Standard Play CAV
MPAA Rating
Running Time
132 minutes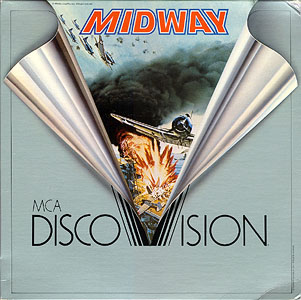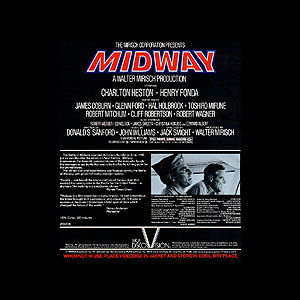 ---
Mono
Pressing Location
DiscoVision Carson
Label Color
Blue
Retail Price
$15.95
Issued
August 1979
Side
Frames
Running Time
1
38,164
26min 30sec
2
37,752
26min 13sec
3
37,736
26min 12sec
4
38,720
26min 53sec
5
37,905
26min 19sec
190,277
132min 08sec
Dead Side
Various
Ratings
Video Transfer
Audio Transfer
Replication
Packaging
Large Open-Top
Open-Top
Side-Open Sticker
Printed
Pressing Notes
The video transfer of Midway is actually quite nice. Of note is the opening credits footage which is way too red, causing the credits to be almost unreadable. The widescreen re-issue released in 1992 corrects this error. Otherwise, the colors are rich and vivid, but the reds are over-saturated. The images are sharp, clean and film-like. Of course, this is only true of the "new" footage. Archive footage which was used throughout is old and shows its age. Some separations have shrunk which causes images to shift color and position at random. This is not a fault of the DiscoVision transfer, but an error of the film.

On the audio front, DiscoVision elected not to transfer the Sensurround effects in this release. However, the disc contains wonderful full range audio with good low end for those explosions. I was take off guard during the aforementioned opening title sequence by the shaking I received due to the bomb explosions. Some feel the extended low frequency response of the disc is by mistake, characterizing it as "film bump" (over modulation of the optical track). I tend to discount this explanation since a optical distortion of this type would produce sounds other than a well defined rumble.

Disc replication is spotty depending on when the particular copy was made. Most of the earlier pressings are much better (as was typical), but side 2 had an extremely high defect rate and troubles with laser lock through the first 4,000 frames.

On the film front, it feels as though the film we are seeing is a last minute hatchet job trying to bring the film down to a marketable running time. Poorly mixed music and choppy edits during the last 45 minutes of the film seem to indicate a much longer version exists. The fake blood and cheesy acting, typical of Universal films of this scope during the 1970's, make this feel like an over long TV movie.
---
Release History
Midway was finally reissued after a long absence by MCA/Universal Home Video as a 3 sided CLV/CAV widescreen (2.35:1) release (Catalog #: 12003) in April 1992. It still doesn't have Sensurround, however the Sensurround track has been mixed into the mono track quite nicely and provides excellent low frequency response. This edition also corrects the color problems of the opening title sequence.
---
MCA DiscoVision Home Page
---
Updated: June 3, 2018
Copyright ©2004 Blam Entertainment Group