©1974 & 1975 Encyclopedia Britannica Educational Corp. All rights reserved.

Catalog Number
64-006
Format
Standard Play CAV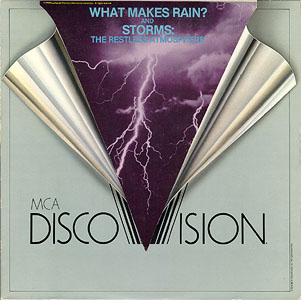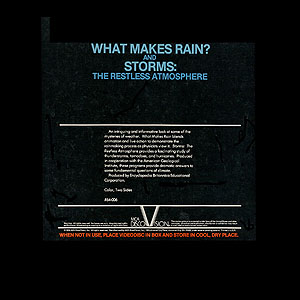 ---
Mono
Pressing Location
DiscoVision Carson
Label Color
Green
Retail Price
$5.95
Year Issued
1979
Program
Frames
Running Time
What Makes Rain?
30,145
20min 56sec
Storms
31,184
21min 39sec
61,329
42min 35sec
Ratings
Video Transfer
Audio Transfer
Replication
Packaging
Open-Top
Side-Open Sticker
Printed
Pressing Notes
The Open-Top box version of this DiscoVision title did not include side numbers on the disc labels. Instead, each side was labeled with the correct program What Makes Rain? and Storms: The Restless Atmosphere. Further, the catalog number on the disc labels varies too, with 64-006A on the "What Makes Rain?" program and 64-006B on the other.

Once DiscoVision had moved to the side-open jackets with the wrap-around sticker, the standard side numbering was used on this title, with both green labels being marked What Makes Rain?, Side 1 and Side 2 as appropriate. However, there is no difference between the program on this version and that of the Open-Top version.

Each side is complete with the DiscoVision opening graphics and motion picture warnings.
---
Release History
What Makes Rain? / Storms: The Restless Atmosphere was never reissued on LaserDisc.
---
MCA DiscoVision Home Page
---
Updated: November 5, 2016
Copyright ©1998 Blam Entertainment Group