©1977 Universal City Studios, Inc. All rights reserved.
Catalog Number
11-009
Format
Standard Play CAV
MPAA Rating
Mono
Running Time
119 minutes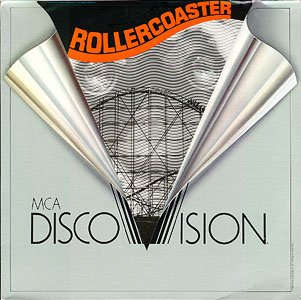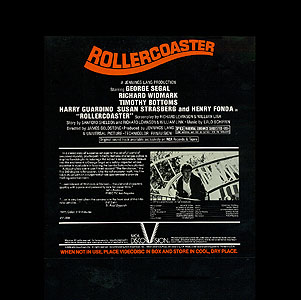 ---
| | |
| --- | --- |
| Pressing Location | DiscoVision Carson |
| Label Color | Blue |
| Year Issued | 1979 |
Side
Frames
Running Time
1
35,972
24min 58sec
2
34,150
23min 42sec
3
34,658
24min 04sec
4
32,413
22min 30sec
5
34,184
23min 44sec
171,377
119min 00sec
Dead Side
Various
Ratings
Video Transfer
Audio Transfer
Replication
Packaging
Large Open-Top
Open-Top
Side-Open Sticker
Printed
Price History
Silver Catalog
$15.95
November 1979
$24.95
May 1980
$24.95
August 1980
$24.95
October 1980
$24.95
Pressing Notes
"Sensurround" effects were not transferred in this pressing of Rollercoaster, although the annoying Sensurround music is very present during all the rollercoaster sequences. There are reports of very troublesome sides 2 & 5 due to excessive speckling and laserlock.

The video transfer is rather annoying. It appears that some sides were transferred directly from the 35mm theatrical anamorphic prints, which give everyone that "thin" look. Other sides seem to be properly Panned and Scanned (a term I personally despise - 'properly panned and scanned') within the unsqueezed 2.35:1 projected image. Some folks attribute this to the way the 2.35 image was composed, and simply transferring the anamorphic image, or a partially unsqueezed image would require fewer visual pans and scans during the transfer to video. Regardless, it's annoying.

There is a brief period of true "letterboxing" on side 5 when our psychopathic rollercoaster bomber is looking through the instamatic camera at the tourists. To my knowledge, this is the first example of letterboxing on video.
---
Release History
Rollercoaster was finally reissued after a long absence on MCA/Universal Home Video as a 2 sided CLV title (Catalog #: 41397). It still doesn't have the Sensurround track.
---
MCA DiscoVision Home Page
---
Updated: August 2, 2020
Copyright ©2004 Blam Entertainment Group