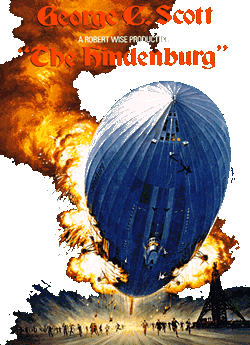 ©1975 Universal Pictures. All rights reserved.
Catalog Number
11-002
Format
Standard Play CAV
MPAA Rating
Running Time
125 minutes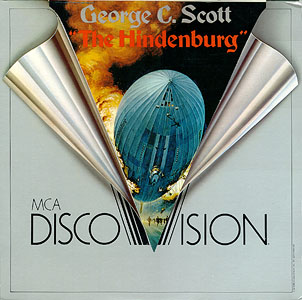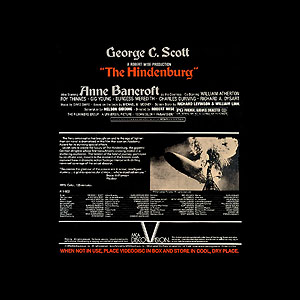 ---
Mono
Pressing Location
DiscoVision Carson
Label Color
Blue
Retail Price
$15.95
Issued
December 1980
Side
Frames
Running Time
1
35,202
24min 26sec
2
37,069
25min 44sec
3
35,252
24min 28sec
4
35,205
24min 26sec
5
40,820
28min 20sec
183,548
127min 27sec
Dead Side
Glue Spray
Ratings
Video Transfer
Audio Transfer
Replication
Packaging
Large Open-Top
Open-Top
Side-Open Sticker
Printed
Pressing Notes
The film transfer to video for The Hindenburg was handled with MCA's usual standard of high quality on both audio and video. This film was slated to be released much earlier in the life of DiscoVision, but for some reason, the title was withheld. It's possible it was due to a mastering error on Side 1, or possibly because there were such problems with side 5 running nearly 41,000 frames. The mastering error on side 1 is that the video completely vanishes at frame 27,029 and returns at frame 27,056. Since some copies of side 3 are known to have 20 Frame Skip, it is clear that the title was at least transferred to master tape at the early stages of the DiscoVision program. Why the title was held up for two years remains a mystery.

The video transfer is sharp and detailed. Its only drawback is the excessive dirt which is present on the transfer print and it litters all bright scenes annoyingly. The audio, while recorded at slightly too high a level, is rich in range and clarity. It is no match, however, for the new Stereo transfer of the widescreen edition.

The fate awaiting The Hindenburg at the film's end very much parallels a collectors fate with a DiscoVision copy as well: Crash and burn. Almost all copies of this disc all have a troublesome side 5, experiencing LaserLock starting as early as 23 minutes into the side and continuing for the duration. Some speculate it is a by-product of the Glue Spray deadside, but this cannot be confirmed. All copies ever examined have the Glue Spray dead sides.

I wonder how many viewers have caught the horrible continuity error during side 2. One passenger states "Next time, let's take the Titanic." Pity the great luxury liner sank 25 years before the Hindenburg disaster.
---
Release History
The Hindenburg, missing from any catalog for several years, resurfaced in April 1991 on MCA/Universal Home Video (Catalog # 11002) in a Widescreen (2.35:1) CLV/CAV edition. This new edition restored the original magnetic Stereo soundtrack.
---
MCA DiscoVision Home Page
---
Updated: November 24, 2015
Copyright ©2004 Blam Entertainment Group