©1964 Universal Pictures Company, Inc. All rights reserved.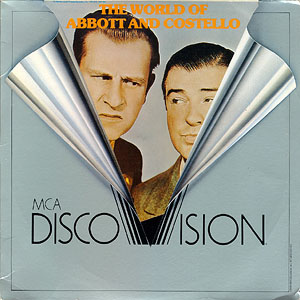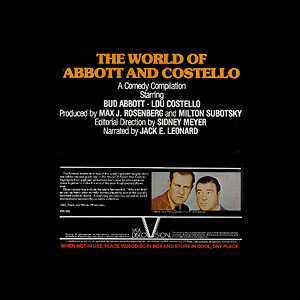 ---
Mono
Pressing Location
DiscoVision Carson
Label Color
Blue
Retail Price
$15.95
Year Issued
1978
Side
Frames
Running Time
1
38,196
26min 31sec
2
37,934
26min 20sec
3
32,181
22min 20sec
108,311
75min 12sec
Dead Side
Various
Ratings
Video Transfer
Audio Transfer
Replication
Packaging
Large Open-Top
Open-Top
Side-Open Sticker
Printed
Pressing Notes
The World of Abbott and Costello is actually a mish-mash of segments from eighteen films featuring the comedy team. While not fine cinema, some of the skits are humorous. Since the film is actually snippits of films spanning many years, the quality of the segments jumps constantly. There are numerous framing errors throughout as can be seen by the black bands which appear and disappear on the top and bottom of the screen. The film also suffers from damage in the form of bad splices and full tears in the film. The video transfer itself is quite good, given the quality of the material.

The audio transfer is about as good as can be expected. It varies from shot to shot, and the narration is clear and not overly loud. Of course, we will not discuss the writing. The replication is spotty. Both copies reviewed for this page are speckled to some degree.
---
The World of Abbott and Costello has not been re-issued on LaserDisc.
---
Return to MCA DiscoVision Catalog
MCA DiscoVision Home Page
---
Updated: October 7, 2016
Copyright ©2000 Blam Entertainment Group