©1975 Metromedia Producers Corp. and Les Requins Associes. All rights reserved.
Catalog Number
51-013
Format
Standard Play CAV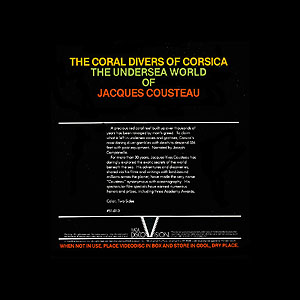 ---
Mono
Pressing Location
DiscoVision Carson
Label Color
Green
Retail Price
$9.95
Year Issued
1979
Side
Frames
Running Time
1
38,218
26min 32sec
2
35,004
24min 18sec
73,222
50min 50sec
Ratings
Video Transfer
Audio Transfer
Replication
Packaging
Open-Top
Side-Open Sticker
Printed
Pressing Notes
One of the eight titles from "The Undersea World of Jacques Cousteau" released on DiscoVision, The Coral Divers of Corsica follows the exploration and reckless adventures of a diver who harvests the precious coral from depths of 300 feet and more. The video transfer, taken from a 16mm print is typical of the other Jacques Cousteau titles from the Silver Catalog. The contrast and color balance are under control and display the wonders of undersea photography. The audio transfer is typical for the 16mm optical track, with little excursion into the upper and lower frequency range. The opening DiscoVision bumper is recorded at too loud a level and distorts terribly as a result. Disc replication is average, with some minor high frequency speckling on most copies.

For a long time, it was thought there was an Extended Play CLV test pressing of Side 1 of this program. Having examined the disc, which is an un-bonded single sided disc, it clearly looks like a CLV disc. The typical 'V' pattern is missing from the playing surface. However, when the disc is played, it is clearly a CAV disc. The exact reason for the unique coding is unknown - however one could speculate that testing was being done to see how playback was affected with different encoding routines. Of course, it could also be a complete fluke and a total screw up on the mastering lathe.
---
Release History
The Coral Divers of Corsica was never reissued on LaserDisc.
---
MCA DiscoVision Home Page
---
Updated: November 7, 2016
Copyright ©2001 Blam Entertainment Group