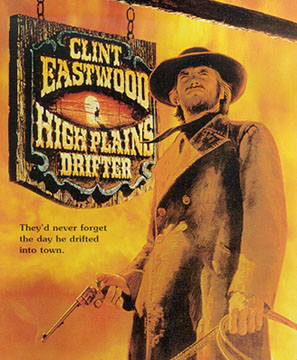 ©1973 Universal Pictures. All rights reserved.
Catalog Number
14-002
Format
Standard Play CAV
MPAA Rating
Mono
Running Time
105 minutes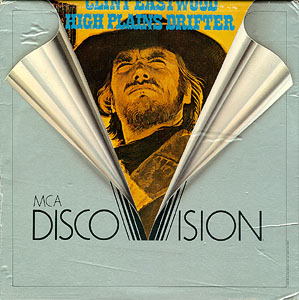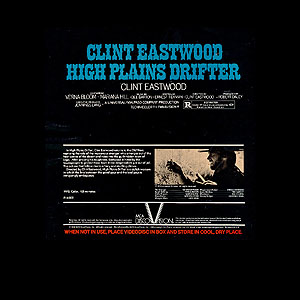 ---
| | |
| --- | --- |
| Pressing Location | DiscoVision Carson |
| Label Color | Blue |
| Year Issued | 1979 |
Side
Frames
Running Time
1
33,640
23min 22sec
2
38,290
26min 35sec
3
39,165
27min 11sec
4
41,061
28min 30sec
152,156
105min 40sec
Ratings
Video Transfer
Audio Transfer
Replication
Packaging
Open-Top
Side-Open Sticker
Printed
Price History
Silver Catalog
$15.95
November 1979
$24.95
May 1980
$24.95
August 1980
$24.95
October 1980
$24.95
Pressing Notes
High Plains Drifter was one of the original single sided test pressings done by DiscoVision in 1977. This version is a complete re-master of that film. The video transfer has vivid colors and a sharp picture. It is too bad it is transferred with such poor regard to the Panavision image and the Pan & Scan process really takes a toll on the screen. The film looses video transfer points for the excessive contrast, which makes the film nearly unwatchable in the night scenes, which comprises nearly half the film.

The audio is transferred within the normal abilities of DiscoVision. The audio for the film is repetitive and annoying, and there isn't anything that DiscoVision could have done to make it more listenable, aside from turning the sound completely off. When playing side 1 through a Dolby Pro-Logic decoder, the surround channels show as being active during most of the side, yet there is almost no audio coming from them. One might suspect a simple phase error when the disc was transferred, but the program doesn't sound "out of phase".

Some copies of Side 1 suffer from 20 Frame skip. Some copies also have a Oval spiral pattern orange bumper at the end of side 3, rather than the typical circle pattern.
---
Release History
High Plains Drifter was reissued on MCA/Universal Home Video (Catalog #: 14002) in January 1992 as a 2 sided CLV Widescreen (2.35:1) disc.
---
MCA DiscoVision Home Page
---
Updated: April 30, 2021
Copyright ©2000 Blam Entertainment Group