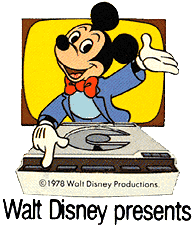 © Walt Disney Productions
Catalog Number
D61-505
Format
Standard Play CAV
Running Time
46 minutes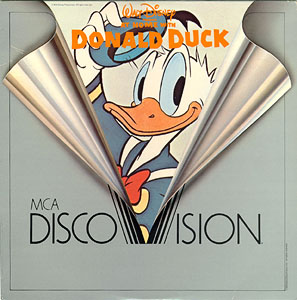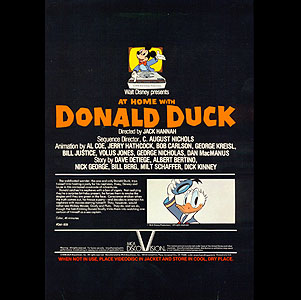 ---
Mono
Pressing Location
DiscoVision Carson
Label Color
Green
Retail Price
$9.95
Year Issued
1979
Side
Frames
Running Time
1
41,325
22min 58sec
2
44,142
24min 31sec
85,467
47min 29sec
Ratings
Video Transfer
Audio Transfer
Replication
Packaging
Open-Top
Side-Open Sticker
Printed
Pressing Notes
At Home with Donald Duck was retained as a catalog title through the entire run of Discovision and disappeared from the Pioneer catalog between October 1982 and December 1983. This collection included "Mickey's Circus" complete with credits. One of several episodes of the Wonderful World of Disney television program which made its way to the DiscoVision catalog. Although Walt Disney Company flatly denies any involvement with DiscoVision, one cannot argue the titles exist. The program has been transferred from film and DiscoVision neglected to properly adjust for the 3/2 pull down necessary for the 24fps of film. As a result, freeze frames are jittery and are stable only on 3 of 5 frames or with the use of digital field memory.

The program centers around Donald Duck and his nephews. Much of the footage was created for this particular episode, but it does include the following classic cartoons:
Mickey and the Seal
Foul Hunting
Pluto's Blue Note
Mickey's Circus
Sea Salts
---
Release History
At Home with Donald Duck was never reissued on LaserDisc. However, the cartoon "Mickey's Circus" was reissued on the Limited Gold II: Life With Mickey collection from Walt Disney Home Video.
---
MCA DiscoVision Home Page
---
Updated: November 4, 2016
Copyright ©1998 Blam Entertainment Group